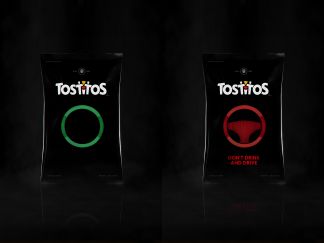 NEWS: Tostitos Bag Makes You Think When You Drink!
13-02-2017
Frito-Lay created a limited-edition "Party Safe" bag for its Tostitos brand, which told imbibing Super Bowl fans to think twice before driving home from that big match party.
The special bag, created by Goodby Silverstein & Partners, was equipped with a sensor connected to a microcontroller, calibrated to detect small traces of alcohol on a person's breath. If any alcohol is detected, the sensor turns red and forms the image of a steering wheel, along with an Uber code and a 'Don't drink and drive' message.
The bag also used near-field communication (NFC) technology, allowing fans to tap the bag with their phone to call a ride. With Uber and Mothers Against Drunk Driving, Tostitos offered partygoers $10 off their ride during and after the Feb 5th game.
While it could not function as a Breathalyzer device, telling people if they had drunk too much, it was certainly a timely reminder to potential tipsy drivers to think twice before getting behind the wheel. "We are proud to have introduced to the world the first bag of chips that gets you home safe," said Roger Baran, a Goodby Silverstein creative director. "It's easy to drink more than you planned during an exciting match. And a lot of times all you need to stop short of driving after drinking is a friend who looks out for you. On Sunday of the big game, we wanted Tostitos to be that friend."
"We designed the technology and the bag from the ground up and then had to scale it," adds Sam Luchini, also a GS&P creative director. "It had to function as a beautiful bag and also like an alcohol detector. It was form and function together."
"Our goal is to remove 25,000 cars from the roads that Sunday evening," said Jennifer Saenz, Frito-Lay's chief marketing officer. "By simply entering a participating Tostitos UPC code in the Uber app, fans nationwide can receive the discount on the Uber ride."
News overview