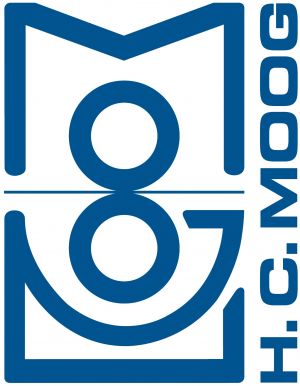 H.C. MOOG GmbH
The company was founded back in 1950 as an engineering enterprise concerned mainly with researching and developing gravure printing and the machines required for it. For over 50 years the special focus has been on the development and design of Moog single -color and multi-color sheet-fed gravure presses.
All the machines delivered to renowned printing plants around the world are tailor-made. Printing plants choose the configurations of their sheet-fed gravure press, plus the necessary optional equipment, according to their particular needs. This allows them to manufacture and to market attractive printing products, which are packages in all fields, stamps, magazine covers, securities, labels, side friction prints and other specialities.
Moog has a team of specialists with an in-depth knowledge of gravure technology and everything concerned with it available to provide advice to new printers.
Originally established by Henry Cornelius Moog, the H. C. Moog GmbH Maschinen fuer Druck und Papier is now under the leadership of Achim K. Kurreck and the Kurreck family. The company's head office - the nerve centre for sales activities, marketing and human resources - is located in Ruedesheim on the River Rhine, in the Rheingau region.
The company's new facility in Miehlen in the Taunus region is 40 km away from the head office. The location offers a modern assembly plant in Ruecker Strasse and a neighbouring building in Kiesel Strasse, in which houses the design team. From here it is roughly the same distance to Germany's major airport, the Rhein-Main Airport Frankfurt, as it is to Ruedesheim. The mechanical engineering facility allows close co-operation between all the corporate divisions involved.
Assembly and machine set-up at customers site with start-up, training and after sales service are handled by Moog.
Test printing of new applications together with other parties are an interesting part of research and development of Moog.
The main sales office for gravure presses and spares is in Ruedesheim but in a number of countries Moog is supported by independent sales and service agencies, which co-operate closely with printing plants.
Back to list
Visit website