AIPIA World of Members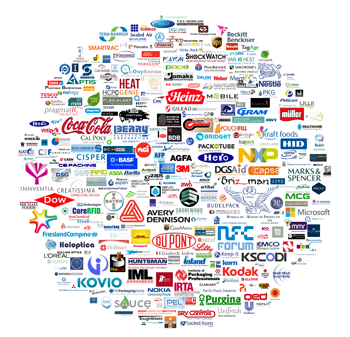 Being a member of AIPIA will make you part of a fast moving and dynamic industry which is growing rapidly. The coming years will see an explosion in Active & Intelligent packaging for primary, secondary and tertiary packs, logistics, retail and every part of the food, drinks, cosmetics, and pharmaceutical supply chains – plus other important product groups such as DIY, chemicals and apparel. Things are changing quickly and there's no way back!
See here who joined us already:
Smart Packaging will become, is becoming, more active and intelligent and every organization in the supply chain must be aware of the opportunities and benefits for traceability, security, waste reduction and fighting counterfeiting. And A&IP will play a much more significant role in the marketing of products.
Being a member of AIPIA makes you at the centre of events and developments. We will connect you with the right people and products. We will keep you informed about the latest innovations and ideas. AIPIA will be promoting, connecting and supporting Smart Packaging – wherever it occurs in the world. We will continually be looking for the best commercial opportunities for our members.
We know: if it's not in the packaging, it's nowhere!
Be part of this exciting new driving force:
And did you know: there are no costs? Membership of AIPIA is currently free. It's all about bringing the right people together, sharing information and achieving rapid implementation of high tech in packaging. The next five years will be crucial, so the sooner you join the sooner you can be part of the next 'quantum leap' in the packaging sector.
If your organization is providing, developing, supporting or using Active & Intelligent packaging solutions, don't wait, join today and stay close to AIPIA.
Joining AIPIA's Advisory Board

To ensure the AIPIA's Advisory Board is made up of key influencers and decision makers in the sector, invitations are offered to a selected group of companies from all aspects of active and intelligent packaging to provide the balance and experience to help the Association develop its program and influence as widely as possible.
Advisory Board Members have direct influence on the activities of AIPIA and will help to plan its direction and frame its policies, such as government lobbying and the format of the AIP World Congress. AIPIA will function as a liaison between Advisory Board members and will be a central source for information and knowledge exchange. Commercialization of active and intelligent packaging solutions is top of the priority list for AIPIA and its Board members.
The Advisory Board is required to meet at least once a year in order to discuss innovations and the latest technical developments, implementation schemes, standardization procedures, etc. and will propose commercial strategies for Active and Intelligent packaging. Companies mentioned on this website as 'Board' are invited to become AIPIA Board Members.
The first Advisory Board Meeting took place in Nuremberg during the AIPIA Congress and made several key decisions about future strategy and activities for the Association. In particular it decided to look at way to connect brand owners and suppliers through the website to help develop projects or applications of mutual interest and benefit.
If your company wishes to join the AIPIA Advisory Board it is possible to apply, please fill out the membership application and apply as a Partner. Your request will be reviewed by the members of the existing Advisory Board. Please tell us what contribution you believe you can make. Thank you.