Are you ready for the next generation of smart packaging?
AIPIA and BXP Magazine to bring the third smart packaging event to New York City area
The 3rd annual AIPIA Smart Packaging Summit Americas will return to the Greater New York City area this June. Co-produced by the Active & Intelligent Packaging Association (AIPIA) and BXP (Brand Experience: Packaging magazine), the event will continue to build off the successes from the 2018 and 2019 events..
The conference, which was previous branded as the Active & Intelligent Packaging Summit, will again take place at the Westin Jersey City Newport June 1 - 2, 2020 in Jersey City, NJ. It will feature two days of dynamic presentations that provide a complete overview of these disruptive packaging technologies and how brand owners and marketers are already commercializing them for the strongest ROI, as well as exhibits from best-in-class suppliers, plus ample networking opportunities.
The Summit is aimed directly at consumer-facing and retailer brands, as well as developers of packaging solutions to help them explore how the latest smart packaging technologies can reinvent and invigorate the entire value chain.
"We are returning to the USA with an even bigger and better event, as the American and related markets are so in need of these technologies ," said Eef de Ferrante, executive director of AIPIA, based in Utrecht, The Netherlands. "Brand owners flocked to the last World Congress in Amsterdam and were hungry to learn how Smart Packaging can give their brands a boost and meet the needs of new consumer priorities, as well as the new retail environment. It will be the same in north America."
Key topics will include Blockchain, Supply Chain Security and Condition Monitoring, Authentication, Inventory Management, Consumer Engagement, Food Safety/Reducing Waste and Brand Protection. In addition Smart Packaging's contribution to the sustainability and Recycling agenda is going to be huge and Brands need to know how it can help them to meet their zero waste targets.
"The Summit is the only North American event covering the entire Smart Packaging sector and offer a complete overview of where the market is now and, more importantly, where it is headed," added de Ferrante.
The 2020 program will include more than 20 expert speakers. A central feature will again be the Packaging Innovation Challenge, in which a major Brand Owner challenges AIPIA members to offer solutions for a specific objective. Previous Challenges have been hosted by Bayer Consumer Health and Mondelēz International. This is a lively interactive session where company pitches last just 4 minutes!
"We're thrilled to be partnering with AIPIA again in 2020," said Gerri Brownstein, BXP's publisher. "Brand marketers today face more choices and challenges than ever. Understanding the possibilities of these disruptive technologies and their role in this new packaging era can ultimately help brands get to create more effective and profitable brand experiences. There has never been more changes in packaging dynamics. How Brands harness that could be critical to their success."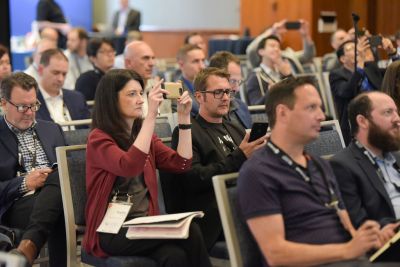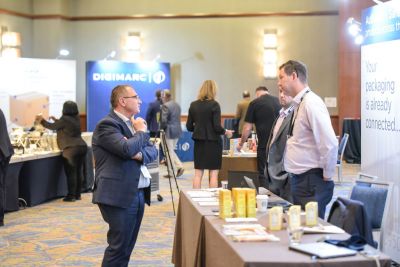 Custom sponsorship programs are being developed now. Contact Gerri Brownstein at gerri.brownstein@stmediagroup.com for more information. Attendees can register for the event here: REGISTER. Speaking proposals can be sent directly to Eef de Ferrante at eef@aipia.info.
----
China: Rising to the Active & Intelligent Packaging Challenge
The clear message from the highly successful AIPIA China Summit in Shanghai this July is that the country is ready to embrace the new technologies on offer from the Active & Intelligent Packaging (A&IP) sector and is eager to adopt ways to improve supply chains and reduce counterfeiting. Additionally more than 50 Brand owners who attended showed particular interest in increasing engagement with their tech-savvy customers via smart and connected packs.
Key messages were delivered to the 200 delegates in a very direct way by Kang Yufei, a senior associate principle engineer at Mondelez in China. He told delegates his company was embarking on 'long term technology development' and is looking to 'reach out' to Active & Intelligent Packaging product providers so his company can 'lead the future of snacking around the world'. He said this message comes from the highest levels of management at Mondelez and several of the Active & Intelligent Packaging technologies he had seem during the Summit were 'very promising' in that quest!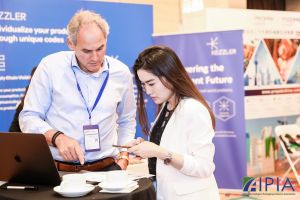 The two day event focussed very heavily on explaining the potential of various Active & Intelligent Packaging technologies for China. A major theme which emerged was protecting products and providing consumers with clear and easily accessible codes and tags to authenticate them. The opening keynote by John Beerens, head of sales at Kezzler set the scene with a talk on how to use unique identities to empower businesses and helps them meet the consumer demand for more information and transparency.
Kezzler also announced it is about to open an office in China to further develop its market and respond to the growing interest and demand for Active & Intelligent packaging in the market.
This theme of consumer demand for more knowledge was a message which recurred through the first and second days in presentations from Toppan, Systech, Advanced Track and Trace, SiliconCraft and NXP. Stora Enso's smart packaging business development manager Zhang Xiaoxiang overlaid this message with his company's strong sustainable credentials with its paper based RFID range ECO RTT.
Michael Elias, chief revenue officer at EVRYTHNG also echoed this theme and pointed to the dramatic increase in the use of QR codes in the last 18 month in the APAC region. He believes standardisation is the key to scalable connected products and his company is working closely with GS1 to develop an open stsandard which everyone can use globally. His company too is opening its first office in China 'within the next 60 days'.
Zhu Taobo, business development director at Amcor explained his company's approach to using cutting edge technology to accurately predict the trend of the market. Along with 100% recyclable and re-usable packaging he predicted 'intelligent packaging is an inevitable trend'. Antii Kemppainen from Finland's VTT technical research centre outlined the many possibilities open to Active & Intelligent Packaging from new printing technologies.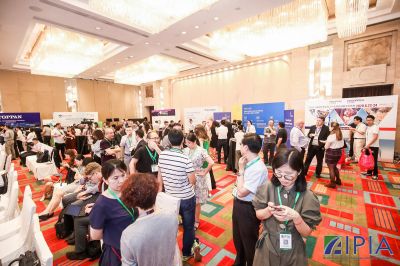 Evigence Sensors and Insignia both offered insights into the benefits of using condition monitoring sensors and labels to accurately show the real-time condition of perishable goods; while marker specialists YPB gave delegates a preview of its Motif Micro technology which it claims ' is the best tool yet for connecting the physical and digital world'.
In his opening and closing remarks Eef de Ferrante, head of AIPIA told the audience "We are not running a conference, but building a new industry. China is vital to this, without China there will be no Active & Intelligent Packaging", he said. This was endorsed by AIPIA's partner in China, Prime Business Consulting. Wu Chaowu, AIPIA's chief representative in China express great satisfaction at the outcome of the first Summit. "We can expand and develop the event from this great start", he said. "China is ready for what A&IP can offer and is fully open for business," he added.
More information contact Andrew Manly at andrew@aipia.info

ALL PICTURES OF
THE SUMMIT HERE





---.---
AIPIA China: Unlocking the Advantages of Active & Intelligent Packaging for the Chinese Market
The up-coming AIPIA China Summit (Shanghai 18-19 July) sets out clearly the advantages of Active & Intelligent Packaging technologies for many sectors of Chinese manufacturing. The event is co-organised by AIPIA, the Active & Intelligent Packaging Industry Association and Prime Business Consulting, AIPIA's representatives in China.
The program has been designed to explain why this huge market needs Smart Packaging and how the different technologies can be adapted to offer real value to the Chinese packaging sector, and end users in the food & beverage, pharmaceutical and cosmetics/personal care industries – all of which are undergoing enormous expansion.
A Keynote address by Talkin' Things, the first company in the world to offer a NFC based Smart Packaging System which integrates iPhone and Android users will set the scene. Other presentations will show solutions to China's growing counterfeit goods problem and how to improve supply chain management and control. In addition Brand Owners, such as Mondelez, will share their Active & Intelligent Packaging experiences.
Leading companies at the cutting edge of Active & Intelligent Packaging development are taking part. These include Amcor, which will demonstrate how it is able to add cutting edge technology on to traditional packaging solutions by accurately predicting the trend of the market. Systech will explain how companies can make their current packaging uniquely identifiable to prevent counterfeiting and diversion. While Evigence Sensors will explain how item level temperature monitoring can help reduce waste and improve the bottom line.
Active & Intelligent Packaging leaders from all across the value chain have signed up to take part in this ground breaking Summit. Leading innovators such as EVRYTHNG (digital ecosystems), Stora Enso (automated authentication and sustainable intelligent packaging), Kezzler (consumer interaction) and NXP (RFID and NFC) are all talking about applications relevant to the Chinese marketplace. In total 20 experts across the entire A&IP ecosystem will share their expertise.
An important feature of the Summit is a Speed Dating session where Active & Intelligent Packaging practitioners will have 2 minutes to get in contact with the many Brands already signed up to attend. There will then be the opportunity to continue one-to-one conversations after the session ends.
Eef de Ferrante, managing director of AIPIA urged the many Chinese Brand Owners, Packaging Manufacturers and Converters, Logistics Companies and Packaging Designers to sign up for the event. "This is a unique opportunity to discover how A&IP technologies can increase profitability, reduce waste and enhance sustainability," he said. "APAC, but particularly China, has the most potential growth prospects for Active & Intelligent Packaging on the planet. We believe the time is perfect to offer China's packaging professionals and Brand Owners – both national and international – a window into the complete world of Active & Intelligent Packaging solutions."
_____
Turning the page on Active & Intelligent Packaging
AIPIA, the Active & Intelligent Packaging Industry Association and BXP, Brand Experience Magazine have published a new magazine Smart Packaging – a state of the industry report – which is now available both on line and in a printed version. The publication reaches out to C-level management at Brands to help them evaluate the smart packaging revolution and how it can add value to their Brand.
Partner in the new magazine is Deliotte, which has recently completed an in-depth report on the value chain benefits of smart packaging Contributors are Evigence Sensors, which explains how seriously food waste impacts on the retailers' bottom line – and how this can be avoided; as well as Pack-Smart explaining how innovative packaging design combined with disruptive Active & Intelligent Packaging technologies need not lead to disruption of existing automation processes.
Other articles include a 'Toolbox' of Active & Intelligent Packaging technologies, to help those quite new to them understand what features are available and some existing applications; while Digimarc explains how smart barcodes can be a boon to the plastics recycling sector; and Zappar show how Augmented Reality brought 'life' to a campaign for localized mega retailer 7-Eleven.
Rounding off is an in-depth interview with AIPIA's communications director Andrew Manly, a 40 year veteran of the packaging sector, who offers a strategic vision of where Active & Intelligent Packaging has come from and where it is likely to go in the near future.
"This is our first venture into the printed word on this scale," explains AIPIA managing director Eef de Ferrante. "We are sure Smart Packaging is a valuable contribution to the whole discussion about Active & Intelligent Packaging and offers real insights which Brands can 'get their teeth into' and better appreciate the value of these technologies."
"We would like to thank particularly, Deloitte, Systech, Certilogo, Kaleidoscope, All4Labels and Smartrac for supporting this first edition. AIPIA looks forward to building on this success and increasing the profile of Active & Intelligent Packaging even more. We hope our members will join us to bring the issue to C-level Management at Brands via social media, and other means, to make the special report, in particular, go viral, and advance the whole industry together," he added.
To read the magazine on-line follow this link:
SMART PACKAGING MAGAZINE ONLINE
AIPIA Summit of the Americas 2019: Snacks, Packs and Facts!
A packed program of over twenty five expert speakers, discussing everything from the latest disruptive digital technologies to a dynamic way to tell if milk is sour, ensures that every delegate at the second AIPIA USA Summit (New Jersey 3-4 June) will take away something to add value to their Brand and business!
A recent addition to the event is one of the most powerful names in the snacks sector, Mondelez, which will be challenging Active & Intelligent Packaging companies to come up with solutions for some of the most famous snack Brands in the world. Companies will have just a few minutes to pitch their ideas to the snacks giant, and convince them why their particular Active & Intelligent Packaging solution will add value to a single Brand or group of Brands within the Mondelez portfolio.
The level of interest in Active & Intelligent Packaging from Brand Owners has been rising dramatically recently, as has the number of applications in, for example, consumer engagement, product security, authentication and provenance. AIPIA accounts for this easily because the facts are becoming clearer:
Consumers want to be more involved with their products and make informed choices about what they buy, how they buy and when they buy – as well as the sustainability of the packaging. It needs a level of consumer interaction and information delivery which only Intelligent Packaging can supply.
Consumers are challenging Brand Owners to guarantee security, safety, authenticity, freshness and longer life quality. Active and Intelligent solutions can deliver all of these, often from one source, in a way which is cost effective and efficient, whilst still maintaining Brand and pack Identity.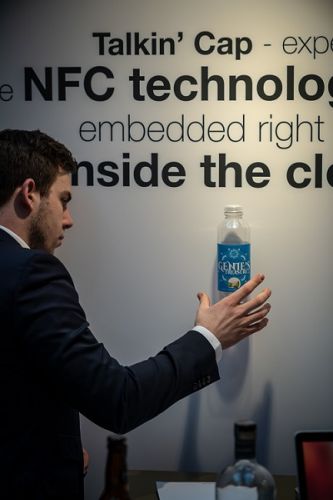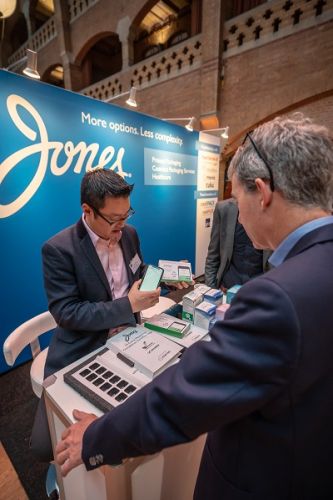 And Blockchain is quickly becoming the Retailers favorite means to authenticate product origin and quality. So Brands and their suppliers and logistics partners need to up their game to retain consumer trust. Active & Intelligent Packaging practitioners offer a range of Blockchain options and data capture solutions.
Information is power. While Active & Intelligent Packaging is delivering benefits to the consumer it is also enabling Brand Owners to understand what motivates them to stay a loyal customer. What will keep bringing them back to a particular brand rather than a competitor's product. How do they keep that happening? What is the best offer or price point? All this can be understood from a simple tap of a smartphone connected product.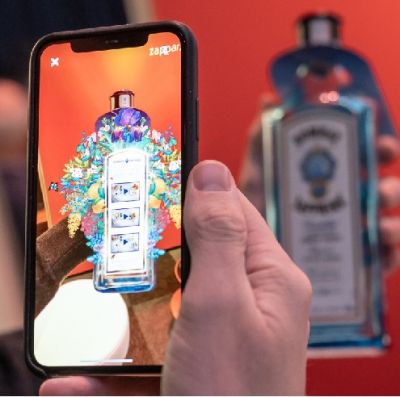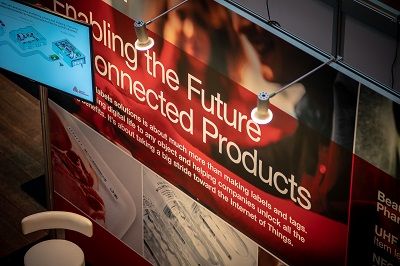 Supply chains just keep getting more complex. How do Brands and logistics companies ensure goods arrive intact, on time and in the best condition? Many now seek solutions from the Active & Intelligent Packaging community.
Experts, such as Digimarc, E-ink, PragmatIC, Talkin Things, Thin Film, Pack-Smart, EVRYTHNG, Wiliot and Zappar will discuss real applications as well as the latest Active & Intelligent Packaging develpments, research and trends. While Deloitte, VTT and Cambridge Design Partnership will offer insights about the way ahead.
Topics being covered include the tangible benefits of smart labels; bringing connecivity to everyday items; value creation using smart, reusable packaging; packages that talk; and smart packaging for hot consumer experiences.
Book your place today, it's the hottest ticket in town!
For full details of the Summit program and how to book: Agenda and registration here
Or click this link: https://events.bizzabo.com/AIPIA-Summit-USA/home
More information:
Andrew Manly
AIPIA Communications Director
Active & Intelligent Packaging in China: Opportunities Beckon
The number of opportunities in China for Active & Intelligent Packaging companies grew tremendously in 2018 and is set to grow even faster this year, according to AIPIA, the Active & Intelligent Packaging Industry Association. To take full advantage of this situation the organisation has announced a full scale Summit on all aspects of A&IP relevant to the Chinese market. The event will take place in Shanghai 18/19 July 2019.
In conjunction with its Chinese partners, Prime Business Consulting, AIPIA will stage the event involving more than 20 speakers, plus a Demonstration Area, where delegates can see some of the latest A&IP products and services in action. The topics will cover supply chain issues and anti- counterfeiting measures – both 'hot' topics in this market - as well as food packaging for extended shelf life and smart packaging to increase consumer engagement with Brands and Retailers.
Confirming the launch of the event, AIPA executive director Eef de Ferrante said, "With the huge expansion in the internal markets for CPGs in China, and the high levels of e-commerce and smartphone penetration, there is a perfect combination of circumstances for A&IP to grow. We believe that 2019 is the right time to upscale our activities in China and show this market exactly what A&IP can do and how it can add value," he explained.
Wu Chaowu, CEO of Prime added, "We have worked successfully with AIPIA for the last 5 years to organise smaller conferences . Each time the event has grown much bigger. In 2018 it attracted almost 200 delegates. So the timing is perfect to bring AIPIA's successful formula to a bigger audience in China as this market is hungry to learn about these technologies."
The format of the Summit will enable delegates to get an overview of the latest A&IP developments and how these can be integrated to offer complete solutions for Brand Owners, Retailers and Supply Chain Specialists. No other event offers such a comprehensive picture of A&IP and how the technologies can fit together, according to AIPIA.
"Reaction to this new Summit during our recent Wold Congress in Amsterdam was extremely positive and we already have several applications to speak and take demonstration booths," said de Ferrante. "Having launched a similar Summit in USA last year, which was a great success, we see this as the natural next step in another important market," he explained.
For more details of the AIPIA China Summit, speaking opportunities or booth space contact: eef@aipia.info


Details and Oppportunities HERE

<--->
AIPIA and BXP Magazine to bring second-year event to the New York City area this June
Building off the success of its inaugural event, the Active & Intelligent Packaging Summit Americas will return to the greater New York City area this June. The event, co-produced by the Active & Intelligent Packaging Association (AIPIA) and BXP (Brand Experience magazine), will be held June 3-4, 2019 at the Westin Jersey City Newport.
The Active & Intelligent Packaging Summit Americas brings together consumer-facing and retails brands and developers of packaging solutions to explore how the latest technologies can reinvent the entire value chain. It will feature two days of dynamic presentations that provide a complete overview of these disruptive technologies and how brand owners and marketers are commercializing them for the strongest ROI, as well as exhibits from best-in-class suppliers and ample networking opportunities.
"We're very pleased to be returning to the U.S. after such a successful first year," said Eef de Ferrante, executive director of AIPIA, based in Utrecht, The Netherlands. "The Summit is the only North American event covering the A&IP sector in its entirely to offer a complete overview of where the market is today and, more importantly, where it is headed."
The inaugural 2018 event featured 27 educational sessions that explored the market factors driving the growth of smart packaging as well as the technologies in specific segments, including augmented reality, consumer engagement, mobile commerce, printed electronics, brand protection, smart labels, supply chain control, product condition monitoring, and more. Real-world case studies of successful smart and active packaging campaigns were featured throughout the event.
The 2019 program will once again feature the Packaging Innovation Challenge, in which AIPIA members are invited to present ideas for utilizing smart packaging to the stakeholders of a major consumer brand. At the 2018 event, Bayer Consumer Health hosted the Challenge.
"We're thrilled to be partnering with AIPIA again in 2019," said Gerri Brownstein, BXP's publisher. "Brand marketers today face more choices and challenges than ever when considering how they want to engage their target consumers. Understanding the possibilities of these disruptive technologies and their role in consumer engagement can ultimately help brands get to market better faster and cheaper while creating more effective and profitable brand experiences."
Custom sponsorship programs are being developed now. Contact Gerri Brownstein at gerri.brownstein@stmediagroup.com for more information.
Attendees can register for the event here: www.bxpmagazine.com/aipia-2019
Speaking proposals can be done here: https://www.aipia.info/apply-as-speaker.php
About AIPIA
AIPIA believes that implementation of new technologies in packaging is key to growth, enhanced efficiency and security, reduced waste and to have better control of sales and marketing. At AIPIA, we focus on the commercialization of active and intelligent packaging solutions with a mission of decimating supply chain costs, reducing waste and increasing members' profitability and sales by the implementation of hi-tech solutions in packaging.
About BXP Magazine
Published nine times a year, Brand Experience magazine, elevates the value of innovative and collaborative brand design as a strategic business competence across the omni-channel path to purchase, to ultimately help brands deliver more relevant experiences that connect with shoppers, win at shelf, own the moment of sale and maximize brand loyalty. BXP believes strategic design can shape consumer behavior and is an investment in brands, not a cost, ensuring design has a proper seat at the table early for better business results. BXP explores consumer and retail facing brand design from concept to shelf, for senior business leaders in marketing, design, R&D/Innovation and their design firm and supply chain partners. To learn more, visit www.bxpmagazine.com.
For more information, contact:
Active & Intelligent Packaging Association
Andrew Manley, Communications Director
P: +31 (0) 657 52038
E: andrew@aipia.info
Brand Experience magazine
Christine Yancey, Marketing Manager
P: 513.236.9327
E: Christine.Yancey@stmediagroup.com
-End-
The New Active & Intelligent Packaging Message: What it can do for you!
During its world Congress, held last month in Amsterdam, both the AIPIA President and its Chief Executive emphasized that the AIPIA (Active & Intelligent Packaging Industry Association) message has changed emphatically during 2018. No longer are we talking about 'How it Works', said Dick de Koning in his presidential opening address, it is now all about 'What it can do for the Brand Owners' he proclaimed.
With the Congress at capacity, with 350+ attendees in the iconic Beurs van Berlage building in central Amsterdam, the 54 speakers continued to show how far the Active & Intelligent Packaging (A&IP) sector has come in a few years. Many case studies proved beyond doubt that the adoption of these technologies is growing exponentially across the food & beverage, cosmetics and pharmaceutical sectors.
"Over 25 individual Brand owners attended this year," said Eef de Ferrante, the association's CEO. "This included a large number of major pharmaceutical companies who are increasingly drawn to A&IP for a number of reasons, including patient compliance and the imminent FMD directive. But we also had senior executives from many other major brands such as Amway, Heineken, L'Oreal, Coca Cola, Dawn Meats, FrieslandCampina, P&G, and Japan Tobacco, - to name a few," he added.
One of the opening keynotes, by Rob Hollands of Anthem Worldwide, a leading strategy agency for major CPG companies, treated delegates to some stunning statistics about how A&IP has raised awareness and provided double digit sales growth following campaigns for a number of leading Brands, such as soft drink Fanta and the Kit Kat confectionery chocolate bar.
The centrepiece of the event was the Glaxo Smith Kline (GSK) Challenge where no fewer than 21 companies had just 4 minutes to convince a panel of senior GSK officers, including its Global Packaging innovation Manager, that their A&IP solution is just what the pharmaceutical giant is looking for across both its pharma and nutrition brands. Following the marathon session GSK awarded three certificates, to Wiliot for its battery free Bluetooth tag technology, Constantia Flexibles for its WOW interactive pack and Presspart for best Healthcare Prof. GSK will continue talking to the companies to further develop their ideas into actual 'on pack' solutions.
A big case study story which broke at the Congress was the Toblerone digital message campaign. A&IP specialist Kezzler is partnering with confectionery company Mondelez to give everyone who purchases the famous triangular chocolate bar a QR code which enables them to send a recorded message to someone. Kezzler CEO Christine Akselsen, announced that the campaign, which was available in 77 stores operated by UK retailer Sainsbury's, allowed consumers to scan, record and send a special video message. " Our codes give each product a unique, secure and traceable identity," she said.
The outstanding new A&IP product at the event featured an 'Invisible' RFID tag. Asahi Kasei demonstrated its sub-micron printing process using cuprous Oxide conductive inks which can produce a fully functional but unseen antenna. Takeshi Kamijo, a member of the company's printed electronics development group, explained, "This metal mesh transparent antenna could be a revolutionary step in the adoption of RFID onto many packs where 'real estate' is at a premium, making Brand Owners and pack designers reluctant to adopt a device they want because which could interfere with a long established Brand or pack image."
Final word on the 2018 Congress went to Martin Stahel from Augmented Reality specialists Zappar, he shared on Linkedin: "Well that's a wrap. Another great AIPIA event sharing how Zappar can help brands turn their silent packaging into interactive media channels."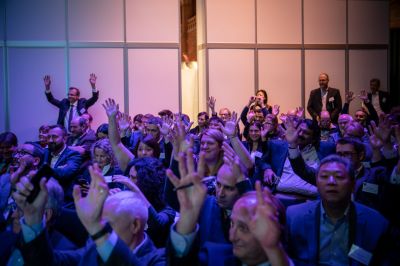 ----
"It's All About Cutting Edge Technology Moving the Bar Higher"
Recently, drupa and AIPIA have agreed on a marketing cooperation. In our interview, AIPIA Director Eef de Ferrante explains design and motivation behind this new partnership and shares his view of the future of packaging.
When it comes to augmented reality, blockchain or sensor technology in packaging, the Active and Intelligent Packaging Industry Association – short: AIPIA – is one of the leading addresses for packaging professionals. At drupa 2020, AIPIA will now play a major role in presenting innovative ideas and developments regarding active and intelligent packaging – thanks to our recently resolved partnership with drupa.
We talked to Eef de Ferrante, CEO and one of the founders of AIPIA, who is convinced that the newly formed partnerhsip is a win-win situation for both AIPIA and drupa. In the following interview, he shares some background knowledge about the new cooperation and gives us insights into the future of packaging and to what extend it is intermingled with the future of the printing industry.
drupa: AIPIA and drupa have recently agreed on a marketing cooperation. What does this cooperation look like?
De Ferrante: We are very pleased to be working with drupa to bring our members in contact with the enormous visitor profile at the show. We will host a Members' Village as well as organising demonstrations and presentations about Active & Intelligent Packaging (A&IP) technologies and how these relate to the printing sector. Many A&IP components are created by some very advanced printing techniques such as vacuum deposition, holographics, embedded security coding, micro printing and so on. Of course printed electronics is a key area, too. So we bring a new dimension to the event. In our opinion it's a chance for members to see new printing technologies which might be adapted to create A&IP products and meet converters and other specialists from the packaging and related sectors. Needless to say it's a win-win partnership!
drupa: What was the main motivation for this cooperation?
De Ferrante: It is a very exciting opportunity to bring some of the latest applications for new printing technologies to the wider world at the biggest printing show on the planet. The buzz of digitalisation in the packaging sector is enormous but there is so much more such as printed electronics, embedded coding in QR and other codes, micro printing, nano ink and printing technologies, graphene, etc. Applications include traceability, serialisation, condition monitoring, thermochromic and photochromic inks for promotions. There is a long list so the print element is very important.
drupa: Regarding the two partners drupa and AIPIA: What are the most important similarities and where do you see the most promising synergies between drupa and AIPIA?
De Ferrante: Well, it's all about cutting edge technology moving the bar higher or taking them into new areas. We are both looking to disrupt the sectors we serve by offering exciting new ideas. So although our approach is slightly different – after all AIPIA is a trade organisation and drupa an international exhbition – our objectives are very closely matched. drupa is a great stage to work on and AIPIA has some great performances to offer!
drupa: Regarding the topic packaging: What are the most relevant developments right now?
De Ferrante: Probably printed electronics is the highest profile from our point of view as it has the ability to make affordability and scalability of many intelligent tags a reality. The advances in print technologies and ink formulation (for example to maintain or improve conductivity but use recyclable materials) for PE are impressive. The current issues about plastic waste and recycling in general mean everyone must take responsibility for minimising waste. A&IP can certainly do that and can really help to reduce food waste and improve medical compliance – all of which can be far more impactive on the planet than a bit of dropped litter.
drupa: And if you think about the future of packaging? What are the most relevant packaging related themes of the future that you expect to see at #drupa2020?
De Ferrante: Better printing helps us to improve the quality of packaging and, at the same time enables us to offer value added items such as anti-counterfeit, security and consumer engagement features. Brands, particularly big brands, are waking up to the fact that they need to engage with their customers in new ways. Packaging can become one of their most powerful marketing tools. So this is a theme we would like to highlight during drupa 2020.
Thank you for the interview, Mr. de Ferrante. We are very excited for future things to come in the field of active and intelligent packaging.
More about this at AIPIA World Congress REGISTER!
---
Where can packaging professionals learn about Augmented Reality, Blockchain and Sensor Technology?
The AIPIA World Congress (19/20 November, Amsterdam) is the only place where the whole world of Active & Intelligent Packaging is on display. It's the event which shows you not only the latest trends in Active & Intelligent Packaging, but also how many can interconnect to produce stunning and cost effective solutions for both major Brand Owners and niche market products.
Trending heavily in 2018 has been Augmented Reality, Blockchain for packaging and the rapid development of Sensor Technology on packs.
Augmented Reality is already recognised as a key way to engage consumers and get them buzzing about your brand or product. In a recent poll over 62% of them saw shopping benefits from AR. But is there a good ROI from AR? Steve Curran of ROAR Augmented Reality will show how AR enabled packaging can offer value and utility to shoppers. Peelinteractive will show what Augmented Reality can do for packaging. Plus Zappar will, once again, blow delegates' minds with some of the latest creative AR offerings.
Blockchain is one of those concepts which everyone has heard about, but often find difficult to grasp in its entirety. At the AIPIA congress, for the first time, EVRYTHNG and Almond.io will show how a product, in this case, FACT, a new organic flavoured-water, has been enhanced with blockchain-based provenance, supply chain traceability and consumer digital rewards.
Sensors is shorthand for all the clever tags and chips which can be embedded into modern packs to supply a whole range of benefits. When you think of tags you think of something a bit chunky? Well think again. Delegates can learn about EPIC's dust sized AI chip which is a smart sensor smaller than a grain of salt which can be embedded into everyday objects. In addition delegates can come and learn about scaleable tag production and application from one of the industry's leading suppliers, Avery Dennison, plus the opportunity to visit the company's I.Lab, a state-of-the-art RFID experience center in Oegstgeest, that showcases its capabilities in RFID / NFC – both active and passive.
Or come and learn about a new economical and ecological RFID developed by Stora Enso Intelligent Packaging. Not only is it ground breaking technology it goes to prove Active & Intelligent Packaging developers are taking sustainability seriously and aim to be 100% environmentally responsible.
The whole world of Active & Intelligent Packaging comes together at the AIPIA Congress. It is the highlight of the calendar for those who want to learn about the big picture of Active & Intelligent Packaging and how it is adding a whole new dimension to the packaging industry landscape. It's the best two days of Brain Training anyone involved in new packaging developments can get!



______
This year's Challenge: Hosted by GSK
The Active & Intelligent Packaging Industry Association, AIPIA, is delighted to announce that GlaxoSmithKline will be hosting this year's AIPIA Congress Challenge.
As one of the world's leading over-the-counter healthcare companies, GSK develops and markets a wide portfolio of trusted brands in Respiratory, Oral and Skin health, Nutrition and Pain relief categories. GSK will be challenging Active & Intelligent Packaging companies to show how disruptive technologies can offer routes to better consumer interaction and engagement at retail shelf and via e-commerce channels. In addition, the healthcare giant will be asking how Active & Intelligent Packaging can add value, compliance, interactive packaging platforms with artificial intelligence, personalization, with localized alerts on allergen and pain triggers for instance, all the while maintaining a context of a sustainable environment.
Commenting, Sriman Banerjee, GSK Respiratory R&D Packaging Director, said that he is "excited to take this innovative stride in the journey to benefit our consumers with modern day connected packaging solutions to do more, feel better and live longer."
Executive director of AIPIA, Eef de Ferrante, said, "This is a landmark Challenge for the Congress to take it purely into healthcare for the first time. It shows clearly that major innovators such as GSK are ready to embrace Active & Intelligent Packaging and engage with its developers in a highly dynamic way on a number of levels.
The 2018 congress is set to be another groundbreaking event."



___________________________________________________________________
AIPIA Summit USA: Road to Discovery for Augmented Reality, Blockchain and Internet of Packaging
Already the Big Brand interest in the new AIPIA Summit of the Americas (4/5 June Jersey City) is demonstrating how much disruptive technologies, such as Blockchain, AR and the Internet of Packaging (IoP), are gaining traction. All the major food, beverage, healthcare, cosmetics & health and beauty care producers- as well as the leading packaging converters and suppliers - need to add value for their customers, improve security and enhance connectivity along the supply chain.
The Summit, which is being run in partnership with BXP, Brand Experience Magazine (formerly Package Design) has lined up more than 25 speakers, covering the full spectrum of Active & Intelligent Packaging (A&IP) technologies. The centerpiece of the Summit will be the Bayer Consumer Health Challenge where A&IP product and service providers can pitch their ideas to help this owner of brands such as Alka Selzer, Claritin and Dr. Scholl's to use smart packaging to enhance the consumer experience.
Other Brands offering insights into how they are using A&IP to differentiate, protect and enhance their products will be ABSOLUT (a member of the Pernod Ricard family) and coffee specialists Paulig. While Zappar and Cambridge Design Partnership will use Brand applications to demonstrate how they have utilized A&IP to great effect for Brands such as Avon, PEZ, Bulmers and Danone.
"We believe US Brands have some unique issues which A&IP can address successfully. But all major global Brand owners already recognize the value of Smart Packaging to help them stand out in this increasingly omnichannel environment. Thanks to digital technologies, smaller companies are able to compete head on with these multinationals. How they respond to this is the next big A&IP adventure," says AIPIA executive director Eef de Ferrante.
"Big Brands such as PepsiCo, Mondelez, Conagra, Genentech and Abbot Nutrition have already signed up to attend the Summit. It will be a Brand fest where packaging's latest disruptive innovations will get a chance to show their potential and get a thorough evaluation," he added.
--.--
More information and press contact:
Mr. Andrew Manly
AIPIA Press department
Andrew@aipia.info
PepsiCo to Challenge Active & Intelligent Packaging Providers at AIPIA Congress
PepsiCo has agreed to host an interactive session at the AIPIA Congress 2017, asking the Association's members to come up with their very best ideas for new packaging formats for PepsiCo brands, incorporating all types of Active and Intelligent Packaging formats and technologies. Members will be given timeslots to present outline concepts to the company on how it can utilize Active & Intelligent Packaging effectively across its entire family of Brands.
And we are not just talking about the company's iconic soft drinks. The PepsiCo family consists of 22 billion-dollar Brands including Frito Lay snacks (Lay's, Fritos, Doritos, Cheetos), Tropicana juice beverages, Quaker oatmeal and bars, Gatorade sports drinks and many others. The 5-minute presentation can cover one or more PepsiCo Brands which can be enhanced by Active & Intelligent Packaging.
Guidelines offered for presentation content include: consumer engagement and interaction; active packaging to extend shelf life (including gas scavenging and replenishment, antimicrobial solutions); interaction with smartphones so Printed Electronics and NFC tagging; plus increased functionality to appeal to consumers, young and old. These concepts can be for Premium Products as well as specific promotional campaigns
Commenting on this latest landmark event inside the AIPIA Congress , executive director Eef de Ferrante said, "PepsiCo is pushing the door wide open for Active and Intelligent Packaging developers to come up with exciting ideas on a truly Brand-wide scale. They are showing great confidence in A&IP, and our association members in particular, to take these technologies into ground breaking areas for a major multinational Brand, at mass production level in some cases."
"We are currently reaching out to our members to submit presentation ideas as there are only 8 timeslots available and they only have a few weeks to prepare their concepts. The Association is delighted PepsiCo has chosen the Congress for this initiative. It shows AIPIA's approach to cover the entire Active and Intelligent Packaging sector appeals to many of the major Brand Owners," he added.
If PepsiCo is interested in exploring any concepts further, it will enter into appropriate agreements with vendors regarding disclosure of confidential information. All of the ideas presented should be accomplished while retaining recyclability of the pack.
The PepsiCo Challenge will take place during the AIPIA Congress 2017, at the Beurs van Berlage in the heart of Amsterdam, 2 and 3 November 2017. For more details of the Challenge, such as timings and presentations, please visit the congress website at https://www.aipia.info/congress-exhibition-program.php
PRESS enquires: Andrew Manly, Communications Director, AIPIA: andrew@aipia.info
CONGRESS enquiries: Eef de Ferrante, Executive Director, AIPIA: eef@aipia.info




---
Second Idea Hackathon Confirmed: ACCELERATING CONSUMER INTERACTION
The final, major piece of the Active & Intelligent Packaging World Congress program for 2017 has been confirmed with the news that Thin Film Electronics ("Thinfilm"), a global leader in NFC mobile marketing and smart product solutions, will moderate the AIPIA Idea Hackathon: "How to accelerate consumer interaction with smart packaging."
"Brands and packaging firms must prepare for a world that is both connected and highly mobile. By 2020, analysts expect 90 percent of the global population to have access to high-speed mobile data and 70 percent with access to smartphones. These mobile-first consumers instinctively reach for their smartphones to make everyday decisions and solve problems, and this means that they will expect to interact with products and packages in ways that improve the overall user experience." said Matthew Bright, Senior Director of Product & Technical Marketing at Thinfilm.
"As packages get smarter, it is essential that brands, marketers, packaging experts, and solutions providers learn and collaborate. By developing strategies that encourage and accelerate the consumer adoption of interactive packaging, AIPIA World Congress participants are leading the way toward a more connected future, " he explained.
The Idea Hackathon will address how consumers can be encouraged to interact with 'on pack' intelligent tags to access information and mobile experiences that can raise purchase intent and encourage ongoing product loyalty. Participants will consider how technology specialists like Thinfilm can work with packaging converters, designers, and agencies to maximize the potential for digital interactivity triggered by item-level smart tags.
Participants will discuss technologies, such as Near Field Communication (NFC), a leading option for item-level tagging, which will soon be supported on all major smartphone operating systems, including Android, Windows, and Apple's iOS. This broad platform-level support creates cross-platform smart packaging opportunities that can reach well over a billion smartphone users worldwide.
As the Internet of Things (IoT) grows in size and scope, analysts forecast over 30 billion connected objects by 2020 and further growth beyond 75 billion by 2025. The IoT, including active and intelligent packages, is expected to make significant contributions to the global economy: The overall IoT market is projected to be worth more than one billion US dollars annually from 2017 onwards,
"There has never been a better moment for the industry to talk about this subject," commented Eef de Ferrante, executive director of AIPIA. "So much is happening so fast that we need to have a clear plan to ensure consumers understand the potential of their smartphones, how to connect with products and how packaging can play a significant role in this connected world. As one of the leaders in this technology we are delighted that Thinfilm will moderate the Idea Hackathon," he added.
Press contact: Andrew Manly, andrew@aipia.info
IDEA HACKATHONS mix groups of delegates, experts, speakers and suppliers in an interactive brainstorming and solutions development session where they get together as a team to brainstorm and develop a potential solution. Then the ideas can to go to the next stage.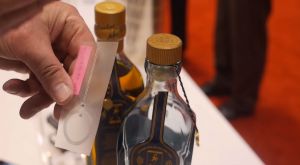 High Res pic needed? Mail: info@aipia.info
The A-Z of Active & Intelligent Packaging will be in Amsterdam
The A-Z of Active & Intelligent Packaging will be in Amsterdam
The program for the next Active & Intelligent Packaging World Congress & Hackathon is taking shape and already includes some of the leading exponents of the latest Active & Intelligent Packaging technologies and innovations. A line-up of speakers and exhibitors, including names from Agfa to Zappar, will ensure what is trending in the minds of Brand Owners and Retailers will be on the agenda.
With one Hackathon already confirmed, on 'The Acceptance of Nanotechnology' for packaging materials which extend shelf life of food, the Association confirms other Hackathon topics are at an advanced stage. Dick de Koning, AIPIA President confirmed, "These Hackathons will be a very dynamic part of the Congress. But, of course, there will be much more for delegates, as the program now on line on the AIPIA website demonstrates. The Association always delivers a very comprehensive overview of the state-of-the-art in Active & Intelligent Packaging – a full alphabet you might say!"
Thirty six speakers already lined up, including Udo Panenka, CEO of Esko Packaging who will tell FMCG companies how their packaging process needs to build more 'muscle' and how to do that! Richard Sharp, chief technology officer of Shazam will explain how the company's music app technology has been adapted to offer a new customer experience from packaging and how Big Brands are using it.
Augmented Reality (AR) is the theme of Martin Stahel, sales director of Zappar. He will tell delegates how brands are using AR to make their packaging interactive. While Fabrice Digonnet, new business development leader EMEA for Dow Europe will address 5 technologies - in 5 minutes each - to end up with sustainable and cost-efficient smart packaging. Interesting!
Commenting on the Congress program so far, AIPIA executive director Eef de Ferrante said, "Its full of smart and fresh ideas from some of the best innovators in the business. We also have a very healthy slice of new active packaging developments, as well as an interesting take on how this technology is being implemented in Japan. That perspective will offer a valuable window into the whole Asian region for Active and Intelligent Packaging – where it is predicted to grow the fastest in the next decade."
Details of speakers and presentations to date are now live on the AIPIA website and will be added too as other presentations and topics are confirmed. Registration is also 'live' and the offer of a discount if you share your registration on your Social Media channels is still available. But it won't last forever, so AIPIA urges you to book your place at the AIPIA World Congress 2017 today!
First Hackathon Topic Confirmed as 'ACCEPTANCE OF NANO TECHNOLOGY'
First Hackathon Topic Confirmed as 'ACCEPTANCE OF NANO TECHNOLOGY'
The first of four Hackathons, which will be major aspects of this year's World Congress on Active & Intelligent Packaging, has been confirmed as looking at the consumer and regulatory acceptance of nano-technologies in packaging. It will be coordinated by AIPIA and the EU Horizon 2020 funded NanoPack project.
AIPIA is adding a series of HACKATHONS to its World Congress. The HACKATHONS will involve groups of delegates, experts, speakers and suppliers in interactive sessions where they get together as a team to brainstorm and develop a potential solution. Then the ideas can to go to the next stage.
Commenting on the Hackathon topic, AIPIA's executive director Eef de Ferrante said, "This is a hugely topical subject. Nanotechnologies have a lot to offer in terms of active packaging, but attitudes to nanomaterials are mixed. This needs to be addressed if we are to make progress with implementing these solutions."
"Food waste and food security is top of the agenda in most parts of the world and the need to improve both is urgent. Nanotechnology offers real advantages but must gain more support and acceptance. The Hackathon will be a great opportunity to come up with ideas," he pointed out.
Dr. Ester Segal, NanoPack's coordinator explained, "Nanotechnology can and will enhance food safety for consumers by significant growth inhibition of food-borne microbes, which in turn will prevent food-borne illness outbreaks and early spoilage. Europe will become the leader in food nanotechnology and smart antimicrobial packaging, which can help to increase competitiveness and growth."
"We are delighted to be able to use the platform of AIPIA Congress to reach out to a wide spectrum of stakeholders at this early stage of the project. It is an ideal opportunity to gather information, gauge attitudes and opinions, to help us address some of the challenges we face," she added.
The Hackathon is an invitation only event for specified delegates and takes place at the World Congress on November 2nd in Amsterdam.
NanoPack aims to develop packaging based on natural nanomaterials that will prevent food-borne illness outbreaks and reduce food waste caused by early spoilage. These active polymer films exhibit broad-spectrum antimicrobial properties unmet by existing state-of-the-art materials, which include currently used nanomaterials such as silver particles, which have raised health concerns of toxicity and microbial resistance. For more information visit: www.nanopack.eu
To find out more about the AIPIA Congress 2017 visit www.aipia.info
About NanoPack:
NanoPack project is an 18 strong consortium, which include Brand Owners, as well as leading industrial and research institutes from all over Europe. NanoPack is working on the development of new packaging materials technologies using natural Halloysite Nanotubes (HNTs) which will demonstrate state-of-the-art antimicrobial packaging solutions for perishable food. Importantly the work also addresses consumer acceptance issues including the safety and regulatory landscape.
For more information please contact:
Mr. Andrew Manly, Communications Director at AIPIAandrew@aipia.infoMobile: +31 657 520 386 -End-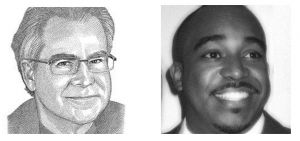 Larry Logan (left) and Fernando Gomez (right)
New Appointments to AIPIA Board Help Association to Explore Fresh Opportunities
AIPIA, the Active & Intelligent Packaging Industry Association has announced two new appointments to its Advisory Board which, says Executive Director Eef de Ferrante, will help the Association to explore fresh opportunities in the USA as well as cementing the close links with Brand Owners.
Larry Logan, Senior Marketing & Brand Executive at US-based Digimarc, a leading innovator and provider of enabling technologies that create digital identities for all forms of media and many everyday objects, including Packaging. At the recent AIPIA Congress he gave one of the keynote addresses on Winning Customer Loyalty Through Digitally Empowered Packaging. Larry joins the board , in particular, to help the Association develop more presence in the USA.
Matthew Daniels from Unilever will be replaced by Fernando Gomez, who works in the field of Strategic Materials Capability. Commenting on the change Eef de Ferrante said, " Matthew has been a strong supporter of the Association and given us many useful insights into the Brand Owners' perspective on A&IP. We look forward to continuing and developing that strong relationship with Fernando."

End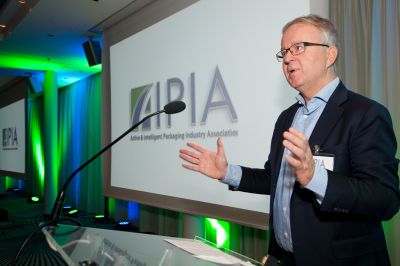 AIPIA President Dick de Koning
AIPIA CONGRESS 2016: Elevating Packaging to the Next Level
At the close of this year's AIPIA Congress the 300+ attendees were left in no doubt that a new age of packaging has dawned.
Speaker after speaker demonstrated ideas which have already found traction in the marketplace. 2016, it seems, has been something of a breakthrough year for active and intelligent packaging (A&IP) technologies, with companies such as Stora Enso, NXP, Thinfilm , Digimarc and Zappar all showing products already providing security and supply chain solutions, as well as major marketing opportunities, to Brand Owners.
The centrepiece of the two day event, which took place in Amsterdam, was an 'elevator pitch' by nine companies, to the Heineken Design & Packaging Team, bidding to work with them on the next version of a smart beer bottle for the iconic brand. Each company had just three minutes to pitch its idea, which made for a very dynamic session to end the first day. The Heineken team will invite one of the companies to continue the discussion about their idea in the coming weeks.
Elsewhere several keynote speakers covered topics of sector –wide significance. Andy Hobsbawm of Internet of Things software platform developers EVRYTHING asked the question: Who owns your packaging, your data and your customers? His view is that digitisation of assets and harnessing of data creates a direct route to the consumer for companies using smart packaging. Larry Logan of Digimarc demonstrated that the connected package is the most salient touch point between a brand and its customers.
More than 30 speakers covered topics ranging from food safe antimicrobial agents to pharmaceutical compliance and traceability. "The Congress is the only event which covers the entire A&IP spectrum to give a broad view of the sector, as well as in depth presentations about some of the latest developments," commented AIPIA President Dick de Koning.
"There is a real energy about event, which is showing no signs of going away after 5 years,"according to AIPIA's executive director Eef de Ferrante. "If anything it is growing stronger," he added. "The number of delegates and the participation of Brand Owners is getting bigger every year. And we were pleased to see a record number of demonstrator booths, double the number we had last time," he said.
"The industry is developing very rapidly," continued de Koning. "AIPIA is uniquely placed to be a hub for information and networking and we only see that getting stronger in the future," he added.
"Of course the challenge is always to follow a highly successful event with something even better next time," explained de Ferrante. "But there were several clear themes coming out of this Congress, including the continuing demand from Brand Owners for complete solutions which we heard in 2015 too. So we are already making plans for 2017," concluded De Ferrante.
AIPIA Press contact:
Andrew Manly, Communications Director AIPIA
Mob: +31 (0) 657 520386
Email: Andrew@aipia.info
Digimarc CMO to Speak on Why Product Packaging is the New Brand Gateway for Consumers
Beaverton, Ore. and Amsterdam. – AIPIA World Congress 2016 – November 11, 2016
WHO: Digimarc Chief Marketing Officer Larry Logan will speak about The Connected Package, and why interactive product packaging is now capable of serving as a brand narrator, communicating an endless stream of valuable content to consumers. Logan has more than 30 years' experience as a marketing and brand executive. The World Brand Congress recently named him among the 100 Most Influential Global Marketing Leaders. His wide-ranging background includes roles such as Vice President and Creative Director at PLAYBOY and CMO of the technology company that developed Street View for Google.
WHAT: A recent study revealed 85 percent of shoppers use their smartphones in retail settings. In Logan's keynote session, "How To Get Consumers To Scan Product Packaging," he explains why a product's packaging is the most salient touch point between a brand and its customers; and how brands and package designers can deliver useful information from product packages directly to shoppers' smartphones quickly and easily to increase the chances of completing the sale.
Attendees will come away from the presentation with an understanding of these new package design innovations, and how they are altering the way consumers shop and engage with brands.
WHEN: Monday, November 14, 2016, 10:30 AM CET
WHERE: Mövenpick Hotel Amsterdam City Centre, Amsterdam, Netherlands
About Digimarc
Digimarc Corporation (NASDAQ: DMRC), based in Beaverton, Oregon, is the inventor of Digimarc Discover® software and the imperceptible Digimarc Barcode for automatically identifying and interacting with virtually any media. Digimarc Discover software enables industrial scanners, smartphones, tablets and other computer interfaces to reliably, efficiently and economically identify traditional barcoded items, along with many other media objects. Digimarc Barcodes are imperceptible to people and do all that visible barcodes do, but perform better. They can be applied to virtually all forms of media. These remarkable capabilities have allowed Digimarc and its business partners to supply a wide range of patented consumer engagement, media management and security solutions across multiple consumer and government industry sectors. Digimarc owns an extensive intellectual property portfolio, with patents in digital watermarking, content identification and management, media object discovery, and intuitive computing more generally. For more information and the latest news, please visit www.digimarc.com and follow on Twitter at @Digimarc.





AIPIA Congress 2016: How Smart is your Packaging?
The AIPIA Congress 2016, (Amsterdam 14/15 November 2016) has attracted some of the leading exponents of active and intelligent packaging (A&IP) innovations and ideas to reveal the next phase of development in this dynamic sector of the industry.
Leading the line-up this year is major international brewer Heineken who is partnering with AIPIA to present a unique opportunity for A&IP providers. During the Congress companies will be able to 'pitch' their technology to be used in the next generation of bottles for the company. Mark van Iterson, Director Global Heineken Design will be on hand to assess the different concepts and announce a winner, who will then go on to discuss their proposals with the company.
If that isn't exciting enough, the rest of the program is packed with speakers who are addressing the issues which matter: how to integrate A&IP into existing packaging designs; harnessing the power of data generated from Internet of Things; getting consumers to use the new technologies; digital sensing; pharmaceutical compliance and traceability; shelf-life extension; and ideal mobile technology for Millennials. Plus a whole lot more.
In addition the demonstration area, Seeing is Believing is double the size of the 2015 event. So there will be a lot more to see and learn. Leading A&IP providers such as NXP, Infratab, Agfa-Gevaert, EVRYTHNG , Thinfilm and UWI Technologies are joined by first time exhibitors such as Digimarc, Thermal Instruments and Selinko.
"This is by far our most dynamic program to date," said Eef de Ferrante, executive director of AIPIA. "The range of topics and speakers shows just how far Active and Intelligent packaging has come in the last five years and the bright future ahead for the next five," he added.
AIPIA's President Dick de Koning, also commented, "We are seeing a real acceleration in the number of products reaching the market and the amount of investment in product development and research. This is clearly demonstrated by the wide ranging speaker program and increase in the number of companies wanting to exhibit their products and services."
For full details of the current Speaker program and exhibitors in the Demonstration area visit the AIPIA website: http://www.aipia.info/congress-exhibition-program.php
---
Press contact: Andrew Manly, AIPIA communications director: Andrew@aipia.info
About AIPIA: The Active & Intelligent Packaging Industry Association is a community of 800 companies including major Brand Owners, major packaging manufacturers, logistics and transport companies, research institutes and A&IP product and service providers. AIPIA is committed to be the hub for information exchange and networking for the A&IP sector, to aid the rapid implementation of these technologies and to decimate supply chain costs and reduce waste for everyone.
AIPIA 2016: Setting the Agenda for Active & Intelligent Packaging Trends
To date, the speaker line-up for the AIPIA Congress 2016 (14/15 November in Amsterdam) is "a real reflection of the current issues which are high on the agenda for Active and Intelligent Packaging (A&IP) users" according to executive director of the Association Eef de Ferrante. Food safety and security, anti-counterfeiting, smart packs and consumer engagement all feature prominently in the program.
The Congress will cover every aspect of the technology and its ability to integrate with both new and existing packaging designs, as well as the benefits it offers. With over 20 speakers confirmed already de Ferrante predicts the event will be "the biggest and best so far".
One of the keynotes already in place will be delivered by Larry Logan, chief marketing officer at Digimarc Corporation, who will explain how to get consumers to scan product packaging. He believes the pack is "the most salient touchpoint between a brand and its customers". The latest innovations in A&IP are "redefining the way consumers shop and engage with brands."
The line-up of speakers already includes some of the leading exponents of A&IP technologies and those developers at the forefront of innovation in the sector. For example Acreo, the leading Swedish research institute will discuss 'How to integrate printed hybrid electronics in novel packaging', while Agfa Graphics will explain how to 'Secure, customize and connect your package design'.
"We are pleased to see many new technologies and fresh ideas," said Mr. de Ferrante. "But, of course, we are talking to a lot of people, including many Brand Owners who are keen to tell us about their latest products and expectations of this industry. So there is plenty more to come. Indeed so many A&IP packs are coming into the market at the moment it is a very exciting period for the industry," he added.
One of the features of the last AIPIA Congress was the number of Brand Owners who both spoke and attended the event. "They continue to be interested in sharing knowledge and views and to be part of the AIPIA community," said de Ferrante. "It is important that the technology suppliers, many of whom are new to packaging, understand what Brand Owners need to integrate their products and implement A&IP successfully. The association has been highly successful at bring them together," he explained.
The full congress program, when complete, will include some 40 speakers, reflecting the views and ideas of every stakeholder, around the theme 'Active & Intelligent Packaging by Design'. A demonstration area will enable A&IP service and technology providers to show the very latest ideas in action.
Details of the Congress program, to date, are available on the AIPIA website http://www.aipia.info/congress-exhibition-program.php
As more speakers are confirmed details are posted on the site, which is up dated regularly.
For more information on the Association, Congress or Membership contact Andrew Manly at Andrew@aipia.info
AIPIA Congress 2016: Active & Intelligent Packaging by Design
AIPIA, the Active & Intelligent Packaging Industry Association has announced dates and central theme for its next World Congress. 'Active & Intelligent Packaging by Design' will take place 14/15 November 2016, at the Mövenpick Hotel in Amsterdam.
Commenting on the announcement AIPIA President Dick de Koning said, "As we left Utrecht last November we were already thinking hard about the next Congress and the clear message from Brand Owners that they want complete solutions which last and add real value over time to their products. This means not only Active & Intelligent Packaging providers designing the right products, but also integrating them into packaging which works and is cost effective. Systems Integrators and Packaging Designers and Manufacturers are an important part of that process. So our next 'step' for the Congress was very clear to us."
"The next Congress will not only discuss the latest developments in Active & Intelligent Packaging products and services, but also investigate how these can and are being integrated into successful packaging designs and products which consumers want to use," he added.
AIPIA managing director Eef de Ferrante said, "Following on from the huge success of AIPIA Congress 2015 we undertook consultations with our advisory board, Brand Owners, as well as suppliers of Active & Intelligent Packaging technology. They all had the same view.
Integrating Active and Intelligent solutions into the packaging is key to its success. It's already happening, but making it happen better and faster will speed the implementation of Active & Intelligent Packaging, which is the core mission of our Association."
Mr. de Ferrante also commented on the decision to stay in Holland for the next Congress, "We decided on the short move to Amsterdam because of its reputation as a global hub for creativity and design" Our venue is the Movenpick Hotel, in the heart of the city centre. In addition everyone seemed to like a November date we have stuck with that too. We appreciate this year it is a busy month for packaging events, but we have selected dates which make it easy to attend the Congress and visit other events, such as Emballage, on the same trip," he explained.
The new venue has enabled the Association to extend the amount of space available for companies to demonstrate their products and ideas. It will also continue with the successful combination of keynote presentations and a choice of 'breakout' lectures on specific themes.
For more information about AIPIA and the AIPIA World Congress 2016 visit www.aipia.info or contact Andrew Manly, communications director on Andrew@aipia.info
End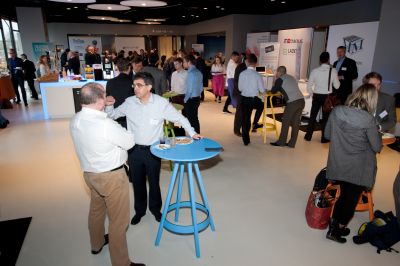 Dick de Koning
Action Packed AIPIA Congress Confirms Brand Owners are Adopting Active & Intelligent Packaging
With delegate numbers exceeding 200 and a record number of Brand Owners attending and presenting, the AIPIA Congress proved beyond doubt that Active and Intelligent Packaging (A&IP) is about to make a big impact and has enormous potential for every stakeholder. The event took place in Utrecht Holland on 18/19 November.
"The buzz was almost palpable from the first moment," said AIPIA President Dick de Koning. "Everyone was totally focused on the topic from the moment Robert Witik of Nestle Research stood up to talk about his company's perspectives on the opportunities and challenges for A&IP, until NXP gave the last presentation to a full room at 16.30 the next evening."
"One of the real achievements of this Congress was the engagement that was possible with a large number of Brand Owners. They were very forthcoming with what they are expecting from A&IP. We were particularly grateful to Robert and our other two Brand Owner presenters, Doug Hutt of SABMiller and Matthew Daniels of Unilever who all gave delegates a very clear picture of the future for A&IP in their companies. It was very exciting to hear their views," added de Koning.
A highlight of the Congress was a completely interactive session called Moving Forward with A&IP from Matthew Daniels of Unilever. This was led by a moderator and involved the entire audience in a lively discussion which brainstormed the views, expectations and challenges for active and intelligent packaging technologies. This will be an on-going project through a Task Force set up during this event.
AIPIA's managing director Eef de Ferrante added his comments on the success of the congress, "Every session was well attended and in some there was standing room only. The theme of A&IP in Action was at the forefront of almost every presentation. Several companies showed products and services which have now reached the market, as well as many new ideas which have been developed in cooperation with other A&IP suppliers and customers."
"The message from the Brand Owners was very clear. They told us they want a usable product, not just a technology. It also has to add real value to their Brand, and not be just a short term gimmick. Importantly they want to see different A&IP developers working together, and also with design houses and packaging manufacturers, to provide a finished solution – not one with bugs to iron out," explained de Ferrante.
The Congress featured over 35 speakers covering every aspect of A&IP as well as a demonstration area where companies showed working examples of their products. It is the only event to cover the entire spectrum of Active & Intellligent Packaging. The next Congress is scheduled for autumn 2016 with venue and dates to be released shortly.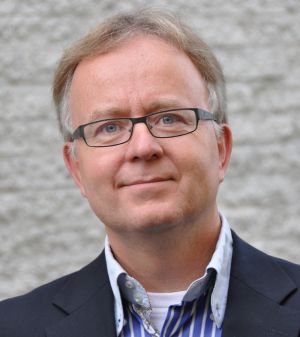 Pharmaceuticals Need "One Stop" Solutions Offered by Active & Intelligent Packaging
With the deadlines for compliance with two major pieces of legislation fundamentally affecting the pharmaceutical sector, a leading industry analyst has made a strong plea for the industry to adopt more Active and Intelligent Packaging (A&IP) solutions 'to deal with the traceability requirements of today and the authentication and compliance issues just around the corner'.
Commenting in advance of the AIPIA Congress on A&IP In Action, Dick de Koning, a leading independent packaging analyst, said "Both the Drug Supply Chain Security Act (DSCSA) in the USA and the EU's Falsified Medicines Directive become fully operational in 2017 and 2016 respectively. I would like to see a more proactive approach from the drug companies, looking beyond traceability issues, to fully embrace A&IP technologies which can address all the problems they face in one go. Currently their piecemeal approach will end up costing more money than if they bite the bullet now."
Several topics at the AIPIA will cover solutions for the pharmaceutical sector and look at other aspects of A&IP technologies as well as offering a more holistic approach to the industry's 'headaches'.
For the last 8 years Confrérie Clinique has been working on its MEDICCINE™ technology, an integrated mHealth system to measure therapy adherence of patients. This has been based upon various packaging media such as blisters, bottles and syringes. It is smart packaging, that is able to monitor storage conditions and intake of solid & liquid medication by using a specially designed microchip. Co-founder Jos Geboers will explain how it works.
The integration of printed electronics into packaging opens up a wide range of market opportunities to create added value for the packaging industry. Sandy Gunn from the Centre for Process Innovation will explain how printed electronics can be incorporated within packaging to improve patient outcomes and compliance by providing information and validation around anti-counterfeiting, product tampering and also whether the contents are fit for consumption. CPI is working alongside commercial partners in order to develop intelligent packaging for a number of market sectors including the pharmaceutical industry.
According to Jeremy Laurens, co-founder of Blulog, five out of 10 of the most sold pharmaceutical products need to be kept between 2 and 8°C from the producer to the dispensary. Currently isothermal packaging and temperature dataloggers are sold separately. What if they could be combined ? The use of NFC technology makes it possible to have very thin temperature dataloggers directly integrated into the isothermal packaging, these can not only track temperature, but also logistical information, from tracking numbers to GPS coordinates, accessed through a smartphone.
"Here are just a few examples of how multiple solutions can be combined into one packaging device to aid pharmaceutical authenticity, security and compliance," added de Koning. "I hope plenty of the sector's packaging experts see this Congress as a vital opportunity to gather information and get into the A&IP network," he said.
To see the full AIPIA Congress program visit:
--
Further Information:Starting in November, 2017, prescription drug products can no longer be shipped without a DSCSA-required unique serial identification code. The new regulations go far beyond printing a few more attributes and modification of the template on the manufacturers' vision system. The core concept is to develop and maintain a tracking system from manufacturing through to sales with 100% accuracy.In Europe the FMD will affect manufacturers, generics producers, contract packers, re-packers, importers and any producer intending to supply pharmaceutical product or active pharmaceutical ingredients into any of the EU 27 countries.Broadly it requires obligatory features on the outer packaging of medicines to demonstrate identification and enable product verification, also to demonstrate that they have not been tampered with, as well as several other obligations. From 2016 onwards manufacturers failing to comply with any aspect of the directive will have to withdraw their products from the European market.
Internet is the New Packaging Frontier
With so many companies offering 'packaging with connectivity' there is little doubt that the new frontier for packaging manufacturers will reach out to the Cloud and Internet of Things, according to the head of the Active & Intelligent Packaging Industry Association (AIPIA), Eef de Ferrante. He says proof of this is clearly demonstrated at the up-coming AIPIA Congress (18-19 November, Utrecht, Holland), where several speakers will be talking about the power of internet in the packaging area.
"There are a growing number of ways to access information, receive and store data, check authenticity or product condition, as well as deliver messages to consumers, shippers and Brand Owners, using A&IP technologies incorporated or embedded in the pack" claims de Ferrante.
Several Congress speakers are showing that, far from being a concept, this form of packaging is already a reality. Identiv, for example, is presenting how one of its customers is using their own Cloud based tracking, monitoring and reporting platform in combination with Identiv's state of the art NFC uTrust Sense Temperature Tag, to record and collect temperature data within the chilled food supply chain.
In another presentation Juha Maijala of StoraEnso and Sylvia Kaiser of NXP, will explain how RFID and NFC enabled packaging can fully support a product's life cycle from factory floor to high street to living room. Smart packages as a portal to the Internet of Things, turning products smart, interactive and trackable from source to sale and beyond! The companies say their combined expertise allows brand owners to go the extra mile – with the competence and understanding of volume scalability, cost efficiency and fast time to market.
But, of course, consumers and retailers need to feel that these new connected packs are safe. In his talk Secure Engagement: Building Trust via Packaging in a Connected World, Nathan Anderson of ScanTrust says the Internet of Things will lead to hundreds, thousands, maybe even hundreds of thousands of physical devices, products and "THINGS" being connected to the Internet. And every single one of those devices will be a potential point of vulnerability. What implications does this have to the packaging industry and what steps can be taken to mitigate this risk? He tells us what they are.
Explaining why Brand Owners are adopting and will increasingly adopt, intelligent packaging Andy Hobsbawm of EVRYTHNG, a keynote speaker at the Congress, said," The inventor of the web browser, and now leading venture capitalist, Marc Andreessen famously said that "software is eating the world" and, consequently, that every business will become a software business. Software increasingly makes the world go around. It powers most industry sectors, indeed our modern, globalized economy itself literally would not exist without it, and it affects how we work, play, learn, consume, transact and communicate."
"In business terms, the Internet and associated software technologies has already re-imagined many of the technologies and systems we use for information and trade," continued Hobsbawn. "LinkedIn has become our CV, Rolodex, Amazon AWS our computing platform, Square and Apple Pay our payment systems, and so on. Inevitably, Internet of Things software is now making our everyday consumer products smart via the packaging."
"Exciting, even revolutionary, new packaging 'hardware' innovations can connect through smartphones to smart 'software' in the cloud to become truly intelligent. It's this IoT software that unlocks the flow of real-time data to and from these packages, connecting brands directly with consumers, and delivering real-time operational insights in the supply chain to protect brands and revenues," he explained.
AIPIA CONNECT: New On-Line Service Helps Brand Owners
The Active and Intelligent Packaging Industry Association, AIPIA, is launching a new, on-line service, called AIPIA CONNECT.
It allows Brand Owners with projects involving active and intelligent packaging to post these anonymously on the association website. AIPIA members who join CONNECT can then offer potential solutions which are forwarded to these companies for assessment and further action.
Eef de Ferrante, managing director of AIPIA explained the reasoning behind the new service, "We get many, many enquiries seeking solutions which need to involve A&IP. But most brand owners do not want a deluge of sales calls if they need solutions involving these technologies, so they rarely go public with them."
"This way they can freely post their project anonymously on the CONNECT area of the AIPIA website and we can then inform members who are part of this service about the potential lead. We will forward information from members who offer a solution – securely - to the brand owner, who can make contact if he or she wants to take it further," he added.
"We know that many Brand Owners are looking at active and intelligent packaging solutions for all sorts of reasons, but particularly marketing and consumer engagement at the present time. This will help them direct their enquiries in a very secure and targeted way to those companies with the right products or levels of expertise to help them develop their A&I packaging," said De Ferrante.
Members can join AIPIA CONNECT for a small annual fee. Full details for both Brand Owners and members are available on the AIPIA website GO TO
AIPIA CONNECT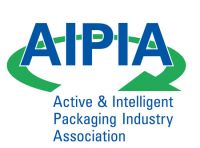 Press release, 15/07/2015
AIPIA Re-makes its Board to Provide Vision for Future Growth of A&IP
The Active and Intelligent Packaging Industry Association (AIPIA) and its new President Dick de Koning of PACKZ, have made several changes to its Advisory Board in order to provide 'strategic vision' for the future growth of Active and Intelligent Packaging.
"The first Board had a very strong line-up and served the Association well, helping it to expand membership beyond 650 companies," explained de Koning.
"Now we need a blend of suppliers and end users of A&IP to offer vision and ideas on the next phase of implementation and development. I am delighted to say the response has been fantastic," he added.
New faces from the supply sector include Craig Voellmicke from CSP Technologies, Pavel Korolik of Eastman Kodak and Sylvia Kaiser-Kershaw of NXP. From the end user side Robert Witik from the Nestlé Research Center will join existing Board member Guido Schmitz of Bayer Health Care. Blue Chip Packaging suppliers will be represented by Marko Hakovirta of Stora Enso, Consumer Board Division.
"We are delighted too," said AIPIA managing director Eef de Ferrante, " to have attracted the services of visionary people such as Andy Hobsbawm of EVRYTHNG, Randy Lane of American Thermal Instruments, Fabrice Digonnet of Dow Europe, Mikko Nikkanen from Smartrac, Kai Leppänen of Thinfilm Electronics and Neil Darin of HAVI Global Solutions."
" Not only do they bring particular product expertise to the table, they are all part of companies which are on the cutting edge of A&IP implementation, which has seen a dramatic increase this year already," added de Ferrante.
The world of R&D is also well represented as Mika Vähä-Nissi of VTT Technical Research Centre of Finland joins Blanca Mentrida from ITENE and immediate past President Bruno Ponsard from ITEGA.
"We are still waiting on a couple of invitations," explained Dick de Koning. "But we already believe this Board has great balance and a deep understanding of the issues confronting the Active and Intelligent Packaging sector and how we need to meet both the challenges and opportunities. We will start work straight away!" he confirmed.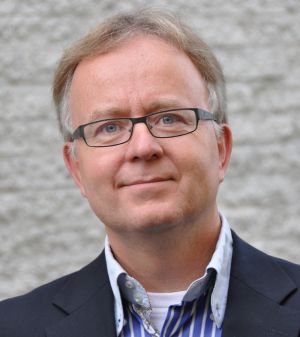 Mr. Dick de Koning. AIPIA Chairman
The AIPIA's New Chairman Introduced
The Active & Intelligent Packaging Industry Association is proud to announce its New Chairman Mr. Dick de Koning, succeeding Mr. Bruno Ponsard who was the Association's Chairman from 2013 - 2015.
The Man
Dick de Koning studied Mechanical Engineering at Avans University in Breda, his post graduate study was in Quality Management and he graduated as a Strategic Packaging Professional at the Dutch Packaging Centre.
In 2012 Dick started PACKZ B.V. as Founding Partner together with Johan Glaser. In this role they are both responsible for managing the PACKZ business with all stakeholders involved.
Before PACKZ, he worked at Unilever Vlaardingen, Bongrain, Schut Flexible Packaging the Heinz Innovation Centre and Budelpack in various R&D, Packaging and Quality Management roles.
During his career he was: Chairman of the Dutch Packaging Professionals for 10 years, member of the examination board for the Strategic Packaging Professionals exams, has been active as a member of the jury for the Dutch Packaging Awards.
PACKZ has been supporting AIPIA since the first congress in Tokyo and is very active in promoting and developing A&IP technologies around the world.
Dick is married, has a daughter of 21 and a son of 18.
The Company
Packz, says Dick, offers practical insights to deliver clear packaging choices and added value for the supply chain. With an office in Breda, The Netherlands, he and his Partner travel the world for insights, new technologies and innovative packaging formats, to create intelligence and networks for clients.
The company has, and is, working for many global brand owners such as Cadburys, Unilever, Agio, Perfetti van Melle, Heinz, Friesland Campina, Nolet and DE Masterblenders, engaged in Packaging Innovation Projects and Technology Scouting.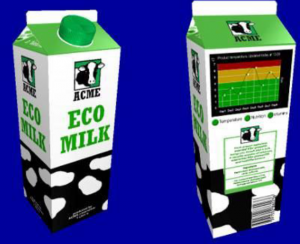 Image courtesy of Dr. Gail Barnes' Smart packaging - From the shelf & dairy case to the Internet of Things
Pathway to Profits and Savings: Active and Intelligent Packaging
The clear message from the 3rd AIPIA Congress, which took place this November in Chicago – alongside Pack Expo International and PharmaEXPO – is that Active and Intelligent packaging technologies are already seen by many brand owners and retailers as a route to increasing profits or improving the bottom line through savings in the supply chain.
A keynote presentation by Dr. Lee Nicholson of PepsiCo, which attracted the largest audience of the Congress, highlighted the company's commitment to exploring how interactive packaging can enhance the consumer experience as well as providing useful insights into customer behavior. As a Director at PepsiCo's corporate R&D he made a highly positive assessment of the trends towards uptake of these technologies by a number of major brand owners.
Commenting on the success of the event Eef de Ferrante, Executive Director of AIPIA said, "As we predicted, many companies have, or are about to implement Active and Intelligent packaging solutions. Several products discussed at the Congress are at pilot or trial with major brand owners and expect a full market roll out in 2015."
"In addition we are seeing more and more investment in Active and Intelligent Packaging solutions right across the board. Smart money follows smart ideas and venture capital inflows into A&IP seem to be accelerating rapidly. Also companies such as Sealed Air, Avery Dennison and Eastman Kodak all demonstrated their commitment to the development of these technologies. So they are expecting it to be a profitable part of their business very soon," he added.
More than 150 attendees were able to learn about a range of applications as diverse as patient compliance for medications, anti-counterfeiting, inventory management, shelf-life extension and condition monitoring from the 27 different presenters. The forum session enabled delegates to learn about some of the latest R&D ideas from a number of academic and research organizations.
Strategic developments in areas such as printed electronics and fighting food waste were topics addressed by the Organic and Electronic Printing Association O-EA, FlexTech Alliance and Spanish research institute ITENE. In particular growth of orders for printed electronic products is expected to grow by as much as 20 per cent in 2015, with 78 per cent of O-EA members increasing their investment in production capacity and taking on new staff.
"With such positive forecasts and outcomes for the Active and Intelligent Packaging sector going into 2015 we are already planning our fourth Congress, which will be Europe-based next autumn, with great confidence," confirmed Mr de Ferrante.
SOME PRESENTATION HIGHLIGHTS:
Themes of reducing food waste and extending shelf life featured strongly, with a number of presenters highlighting the many different approaches to achieving these goals. One of the more novel solutions was offered by Will Wood of Cellresin who talked about SmartFresh™ which binds to plant ethylene receptors blocking the ethylene effect, thus delay ripening and extending storage life.
He explained that the active ethylene inhibitor can be introduced into a number of packaging formats at no extra cost in to the process, including multi-layer materials where it is placed in the middle 'print' layer,. It is released as a gas via the natural respiration of water vapour from the produce. With an estimated 30% of broccoli lost due to spoilage along the supply chain Wood estimates that, using the most recent figures available, the inhibitor technology could save as much as $240 million each year.
-//-
Another area highlighted in a number of presentations was the rapid development of Printed Electronics. Several products are ready for full market roll out, including Thin Film's Smart Label, which can combine a temperature indicator, product authentication and expiration date trigger. An example is the MedTracker™ from TempTime, under joint development with Thin Film. While AdherTech is currently testing its Smart Pill Bottle, which can track and improve patient compliance, with three of the major pharmaceutical companies, as well as on-line pharmacies.
-//-
What if a products packaging could enable "Safe Heat Anytime, Anywhere™" without wires, batteries or a flame? That is the capability that RBC Technologies demonstrated, having developed and recently commercialized it for use in the DJO Global thermo-formable Rapid Splint™ with Exothermix® product line. Many other functional packaging enabled products are in the development pipeline for use in medical device, military and consumer packaged goods applications. The uses for the technolgy range from heat-assisted drug delivery and customizable medical devices to self-heated meals and personal care products like wipes and lotions.
The RBC self-heating technology is based on a derivative of hearing aid battery chemistry, which scavenges oxygen from the air to power the heating reaction. As opposed to other 'self-heating' technologies, the reaction is air activated, making it inherently safe, but also very powerful.
-//-
SMARTRAC challenged delegates to look at RFID technology for use in a highly topical sector: The Games industry. Mikko Nikkanen pointed out a compelling range of opportunities for Games to interact with physical merchandise, based on Game characters, or add value to ordinary packaged products, such as cereals to include games or a range of downloadable features.
Opportunities for distribution charges to increase Game participation through the on pack promotions and access, measurable promotion campaigns, Freemium-to-Premium games, cross-licencing between brands and Game merchandise business are just the start.
-//-
Daniel Forte, Quantum Technology Group explained how quantum dots are chemically engineered nanoparticles that possess 20+ unique corresponding properties and characteristics. Their signatures may be detected in the field by the use of hand held devices and forensically with sophisticated laboratory equipment.
Quantum dots may be used as an overt or covert protection system and combined with other security technologies such as synthetic DNA, phosphors, holograms, security ink and more. They are suited for use on a wide variety of substrates including polymers, paper, metals and glass. He says the use of quantum dots as the next generation security technology represents overwhelming challenges to counterfeiters.
About AIPIA: (www.aipia.info)
The Active and Intelligent Packaging Industry Association (AIPIA) is a worldwide association, with 650+ members, promoting high tech packaging solutions. AIPIA's mission is to decimate supply chain costs, reduce waste and increase profitability by the implementation of high tech solutions in packaging. Each year it runs the AIPIA Congress, the world's only event for ALL A&IP technologies.
Infratab to unwrap smartphone sensor tags at AIPIA Congress
Company Director will speak at AIPIA World Congress and host booths at Pack Expo and PharmaExpo Ensuring freshness of food, pharmaceuticals, and all perishables
Oxnard, CA--Infratab, the award-winning innovator behind Freshtime™--a line of freshness sensors and software for all things perishable—will unwrap their latest additions at Pack Expo, November 2-5, 2014, in Chicago. Infratab Director of Strategy and Business Development, Prashanth Vanchy, will also speak on "The Art of the Possible: Intelligent Packaging Solutions for Freshness" at the Active and Intelligent Packaging Industry Association (AIPIA) Congress coinciding with Pack Expo.
Infratab is the creator of a system of smart sensors and software whose purpose is monitor, track, and communicate a perishable's condition—simply and securely—throughout the supply chain, from farm to warehouse to grocery aisle to dinner table.
Conventional methods of monitoring perishables—such as use-by dates and temperature loggers—fail to report a perishable's actual condition. According to the Institute of Food Technologists, as much as 31 percent of the U.S. food supply is wasted—thrown out because an expiration date has passed, or a critical temperature threshold has been breached—although the perishable is still in perfectly good condition. Conversely, perishables that have been improperly handled are sometimes sold as fresh, only for consumers to discover that they are not—thus tarnishing the brand.
The power is in the points
At the core of Infratab's Freshtime™ technology are Freshtime Points™, a system of quantifying and measuring the freshness of a perishable using metrics that can be authenticated, validated and audited. A perishable starts out with 100 Freshtime Points™ and ends its useful life at zero—the quality use-by date set by the brand owner.
Using Freshtime Points™, a perishable's condition can be assessed and budgeted by anyone who handles it—the brand, its transporter, retailer, or consumer. The result is greater consumer confidence and trust, longer use and reduced spoilage.
Freshtime™ tags, which are RFID EPC Gen2 tags, come in various sizes and can be used repeatedly. A 4" x 4" general-use tag, for manufacturing, storage or transport, is often used as a micro-climate temperature monitor for storage rooms, containers or perishables display cases. The Freshtime clip tag (4" x 8") is used with RPCs (reusable plastic containers) and other cases that have either a handle or a lid. The Freshtime long tag (4" x 20" in length) is used to monitor metal-lined containers or containers of frozen perishables.
These previous tags have required an RFID EPC reader to set up the tag and retrieve the data stored in it. EPC (Electronic Product Code) is an RFID standard set by GS1 (the issuer of UCC barcodes) for products sold worldwide in the supply chain. An on-tag button enables the tag to be started and the status checked without the use of a reader.
Two new Freshtime™ tags
The newest members of the Freshtime™ family are even more mobile. Freshtime™ NFC is a tag that can be read by anyone with a smart phone app—farmers, small growers, businesses, or restaurateurs. Like other Freshtime™ tags, it can be used and reused.
Freshtime™ Dual is a tag that can be attached and started in the field—again, using only a smartphone—then used by packing houses, consumer brands, and retailers who are part of the GS1 global supply chain. The system not only helps ensure the freshness of products, it can also help suppliers plan the most appropriate packaging and transport, as well.
In addition to adding value to the supply chain, the Freshtime system also helps document compliance with regulatory requirements such as those set by the federal Drug Supply Chain Security Act (DSCSA and the FDA's Food Safety Modernization Act.
Infratab has other tags in the works—one for oyster sacks, which is capable of withstanding both the oyster and the ocean; and one for frozen goods, letting handlers know whether a product has thawed and been refrozen. Although the company has focused on food applications since its founding, the technology is applicable to a wide range of industries—pharmaceuticals and vaccines, supplements, cosmetics, industrial adhesives and sealants, biologics, and blood; indeed, any product for which potency matters.
Infratab will occupy a booth in the demonstration area of AIPIA, at Pack Expo, and Booth 581 at PharmaExpo, which coincides with Pack Expo in Chicago.
Infratab Director Prashanth Vanchy's talk on "The Art of the Possible: Intelligent Packaging Solutions for Freshness," will take place at 15:50 on November 3, in Room 3 at the AIPIA World Congress.
For more information, contact Terry Myers, Infratab CEO at tmyers@Infratab.com, 805-340-9020
# # # # #
Headquartered in Oxnard, California, with offices in Bangalore, India. Infratab, Inc. is a privately held company that makes and sells smart sensors and software, collectively known as Infratab Freshtime™. The Freshtime™ technology platform monitors, tracks and traces a perishable's condition—simply and securely—throughout the supply chain. A recognized leader in perishable condition-monitoring solutions, Infratab technology is backed by a growing portfolio of issued and pending U.S. and international patents. These cover RFID sensor tags and their use with PCs or mobile devices for the purpose of monitoring the condition of a product.
Active and Intelligent Packaging a Top Priority in Fight to Save Food Waste
AIPIA/ITENE road-mapping event at Interpack confirms importance of Active & Intelligent Packaging technologies
(To download the complete documents of the Roadmap sessions, see below)
Results now published from a major road-mapping exercise, held during the recent Interpack exhibition in Dusseldorf, Germany, clearly show broad support for the development and implementation of Active and Intelligent Packaging technologies as a major tool to fight food waste, according to event co-hosts , AIPIA and Packaging, Transport and Logistics Research Center, ITENE.
With more than 60 attendees from all parts of the packaging sector, the two hour event used interactive sessions to help identify both the challenges facing all parts of the supply chain to reduce food waste and identify key drivers to ensure implementation of 'ready to market' Active & Intelligent Packaging solutions.
"As 2014 is the European Year Against Food Waste it was a very good time to bring industry experts together to discuss the topic in this way," said Active & Intelligent Packaging Industry Association director Eef de Ferrante. "We have a clearly defined timescale of 2 -5 years, and a clear map of which Active and Intelligent Packaging technologies are regarded as necessary to achieve a significant reduction in food waste."
The EU points to inadequate packaging, confusion about "best before" and "use by" labels, the lack of awareness, stock management inefficiencies, overproduction and inadequate storage, among others, as the main causes of food waste.
According to EU published data, about 90 million tonnes of food is wasted annually in Europe and about a third of the food for human consumption is wasted globally, what means around 1.3 billion tonnes per year. Moreover, 40% of these food losses in industrialized countries occurs at retail and consumer level. If no actions are taken, food waste generation is expected to climb to 126 million tonnes per year by 2020 according to the European Commission.
Jorge García, Business Director of ITENE, speaking during the event, stressed the importance of raising consumer and industry awareness, as well as the retail and the consumer understanding of how packaging can play a key role to avoid food losses; and also how the packaging industry can offer different safe, cost-effective and environmental compatible packaging solutions for reducing food losses.
"The findings clearly show that active technologies such as oxygen and ethylene scavenging, antimicrobial and anti-fungal, humidity control and anti-oxidants, for example; and smart solutions such as freshness indicators, time/temperature indicators and all types of traceability products have benefits for the whole supply chain, not just individual elements of it. In particular consumer behaviour- such as weekly rather than daily shopping, aging populations and more single person units - fits exactly with the kind of requirements Active and Intelligent Packaging offers," explained Jorge Garcia
He continued,, "Active packaging can double the effective shelf life of many perishable products compared to conventional packaging, while smart packs offer clear signals about the condition of the product, without the use of arbitrary 'best before' labels. For instance, in the active packaging field ITENE has developed a new active technology that extends the shelf life of red meat from 7 to 14 days by adding natural active substances to the packaging material. In the smart packaging area an innovative colorimetric indicator has been created to detect poultry products spoilage which informs the consumer by an easy and intuitive label colour change"
Eef de Ferrante of AIPIA added, "These and many new developments in, for example, nano barrier technologies and materials, will be major topics of conversation and presentation at the up-coming AIPIA World Congress this autumn in Chicago (November 2-4), taking place during Pack Expo International and PharmaExpo. It is a very dynamic sector with fresh ideas coming constantly."
Download the results of the roadmapping sessions here:
ITENE (www.itene.com)
The Packaging, Transport & Logistics Research Centre ITENE provides business solutions from an overall perspective of the supply chain, from raw materials to the design and development of packing and packaging systems, the optimization of transport and distribution of goods, delivery to the end consumer.
ITENE is member of the SAVE FOOD initiative created to fight against global food losses and works in the research and development of packaging technologies that extend food shelf life (active packaging), give valuable information to the consumer (smart packaging) and food products distribution control (transport simulation) to avoid unnecessary food waste and food losses along the whole supply chain.
AIPIA (www.aipia.info)
The Active and Intelligent Packaging Industry Association (AIPIA) is a worldwide association promoting high tech packaging solutions. AIPIA's mission is to decimate supply chain costs, reduce waste and increase profitability by the implementation of high tech solutions in packaging.
AIPIA believes that active and intelligent technologies in packaging are a 'once in a generation' change in the sector. Not only will they alter the role of packaging in the marketplace, but also facilitate better business through premium pricing, supply chain management, improved security/brand protection and waste reduction.
The third AIPIA World Congress will take place November 2-4 during PackExpo in Chicago to show how to profit from these exciting packaging technologies.
For more information:
ITENE
Ana García Hidalgo
Agarciahidalgo@itene.com
AIPIA
Andrew Manly
Andrew@aipia.info
0031-6-57520386