Press Releases
AIPIA postpones Asia Smart Packaging Summit due to Coronavirus

AIPIA, the Active & Intelligent Packaging Industry Association has announced it will postpone its Summit, scheduled for April in Shanghai, due to the ongoing uncertainties raised by the spread of the 2019-nCov Coronavirus in China and many other regions. Eef de Ferrante, managing director, AIPIA made this statement, "Our first priority is the safety of members and delegates attending the Summit. While the efforts to control the virus are increasing rapidly, the risks remain, and the lockdown on travel in and out of China is likely to continue for the foreseeable future. We felt it was important to give some certainty as early as possible, so have decided to postpone our event."
"We are doing this with the full agreement of AIPIA's partners in China, Prime Business Consulting. Their first hand knowledge of the situation and advice on how China's packaging community is having to dealing with the many disruptions to its business, made this decision easy to take," added de Ferrante.
Wu Chaowu, AIPIA's chief representative in China and CEO of Prime, commented, "Establishing the Summit for the long term is very important. The 2019 event was already shaping up very strongly with more booths and more speakers already committed. So interest here for Smart Packaging is very high. But we believe in the interests of members and potential delegates this is the correct course of action. It may be some time before things get back to normal, so a clear decision now helps everyone to plan ahead."
De Ferrante concluded, "We took a long look at finding 2020 dates, but the packaging calendar is very crowded already, so it is better to move the Asia Summit beyond uncertainties and clashing events. Our colleagues at Prime will work very hard on the project and we look forward to continuing to work with them to make our next Summit, in 2021, bigger, better and more dynamic than ever."
Are you ready for the next generation of smart packaging?

AIPIA and BXP Magazine to bring the third smart packaging event to New York City area
The 3rd annual AIPIA Smart Packaging Summit Americas will return to the Greater New York City area this June. Co-produced by the Active & Intelligent Packaging Association (AIPIA) and BXP (Brand Experience: Packaging magazine), the event will continue to build off the successes from the 2018 and 2019 events..
The conference, which was previous branded as the Active & Intelligent Packaging Summit, will again take place at the Westin Jersey City Newport June 1 - 2, 2020 in Jersey City, NJ. It will feature two days of dynamic presentations that provide a complete overview of these disruptive packaging technologies and how brand owners and marketers are already commercializing them for the strongest ROI, as well as exhibits from best-in-class suppliers, plus ample networking opportunities.
The Summit is aimed directly at consumer-facing and retailer brands, as well as developers of packaging solutions to help them explore how the latest smart packaging technologies can reinvent and invigorate the entire value chain.
"We are returning to the USA with an even bigger and better event, as the American and related markets are so in need of these technologies ," said Eef de Ferrante, executive director of AIPIA, based in Utrecht, The Netherlands. "Brand owners flocked to the last World Congress in Amsterdam and were hungry to learn how Smart Packaging can give their brands a boost and meet the needs of new consumer priorities, as well as the new retail environment. It will be the same in north America."
Key topics will include Blockchain, Supply Chain Security and Condition Monitoring, Authentication, Inventory Management, Consumer Engagement, Food Safety/Reducing Waste and Brand Protection. In addition Smart Packaging's contribution to the sustainability and Recycling agenda is going to be huge and Brands need to know how it can help them to meet their zero waste targets.
"The Summit is the only North American event covering the entire Smart Packaging sector and offer a complete overview of where the market is now and, more importantly, where it is headed," added de Ferrante.
The 2020 program will include more than 20 expert speakers. A central feature will again be the Packaging Innovation Challenge, in which a major Brand Owner challenges AIPIA members to offer solutions for a specific objective. Previous Challenges have been hosted by Bayer Consumer Health and Mondelēz International. This is a lively interactive session where company pitches last just 4 minutes!
"We're thrilled to be partnering with AIPIA again in 2020," said Gerri Brownstein, BXP's publisher. "Brand marketers today face more choices and challenges than ever. Understanding the possibilities of these disruptive technologies and their role in this new packaging era can ultimately help brands get to create more effective and profitable brand experiences. There has never been more changes in packaging dynamics. How Brands harness that could be critical to their success."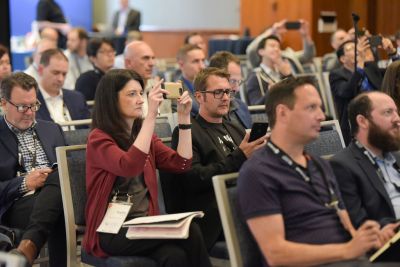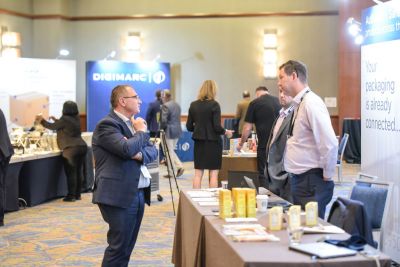 Custom sponsorship programs are being developed now. Contact Gerri Brownstein at gerri.brownstein@stmediagroup.com for more information. Attendees can register for the event here: REGISTER. Speaking proposals can be sent directly to Eef de Ferrante at eef@aipia.info.
China: Rising to the Active & Intelligent Packaging Challenge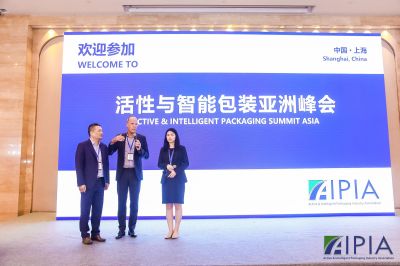 The clear message from the highly successful AIPIA China Summit in Shanghai this July is that the country is ready to embrace the new technologies on offer from the Active & Intelligent Packaging (A&IP) sector and is eager to adopt ways to improve supply chains and reduce counterfeiting. Additionally more than 50 Brand owners who attended showed particular interest in increasing engagement with their tech-savvy customers via smart and connected packs.
Key messages were delivered to the 200 delegates in a very direct way by Kang Yufei, a senior associate principle engineer at Mondelez in China. He told delegates his company was embarking on 'long term technology development' and is looking to 'reach out' to Active & Intelligent Packaging product providers so his company can 'lead the future of snacking around the world'. He said this message comes from the highest levels of management at Mondelez and several of the Active & Intelligent Packaging technologies he had seem during the Summit were 'very promising' in that quest!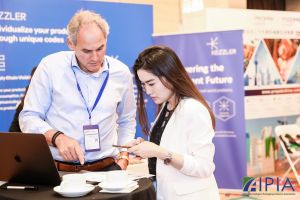 The two day event focussed very heavily on explaining the potential of various Active & Intelligent Packaging technologies for China. A major theme which emerged was protecting products and providing consumers with clear and easily accessible codes and tags to authenticate them. The opening keynote by John Beerens, head of sales at Kezzler set the scene with a talk on how to use unique identities to empower businesses and helps them meet the consumer demand for more information and transparency.
Kezzler also announced it is about to open an office in China to further develop its market and respond to the growing interest and demand for Active & Intelligent packaging in the market.
This theme of consumer demand for more knowledge was a message which recurred through the first and second days in presentations from Toppan, Systech, Advanced Track and Trace, SiliconCraft and NXP. Stora Enso's smart packaging business development manager Zhang Xiaoxiang overlaid this message with his company's strong sustainable credentials with its paper based RFID range ECO RTT.
Michael Elias, chief revenue officer at EVRYTHNG also echoed this theme and pointed to the dramatic increase in the use of QR codes in the last 18 month in the APAC region. He believes standardisation is the key to scalable connected products and his company is working closely with GS1 to develop an open stsandard which everyone can use globally. His company too is opening its first office in China 'within the next 60 days'.
Zhu Taobo, business development director at Amcor explained his company's approach to using cutting edge technology to accurately predict the trend of the market. Along with 100% recyclable and re-usable packaging he predicted 'intelligent packaging is an inevitable trend'. Antii Kemppainen from Finland's VTT technical research centre outlined the many possibilities open to Active & Intelligent Packaging from new printing technologies.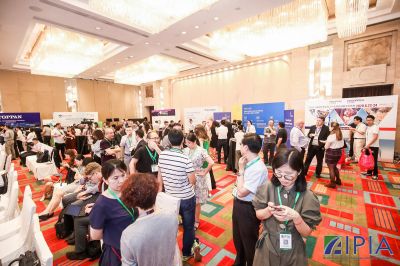 Evigence Sensors and Insignia both offered insights into the benefits of using condition monitoring sensors and labels to accurately show the real-time condition of perishable goods; while marker specialists YPB gave delegates a preview of its Motif Micro technology which it claims ' is the best tool yet for connecting the physical and digital world'.
In his opening and closing remarks Eef de Ferrante, head of AIPIA told the audience "We are not running a conference, but building a new industry. China is vital to this, without China there will be no Active & Intelligent Packaging", he said. This was endorsed by AIPIA's partner in China, Prime Business Consulting. Wu Chaowu, AIPIA's chief representative in China express great satisfaction at the outcome of the first Summit. "We can expand and develop the event from this great start", he said. "China is ready for what A&IP can offer and is fully open for business," he added.
More information contact Andrew Manly at andrew@aipia.info
AIPIA China: Unlocking the Advantages of Active & Intelligent Packaging for the Chinese Market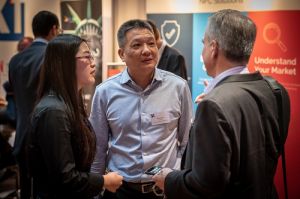 The up-coming AIPIA China Summit (Shanghai 18-19 July) sets out clearly the advantages of Active & Intelligent Packaging technologies for many sectors of Chinese manufacturing. The event is co-organised by AIPIA, the Active & Intelligent Packaging Industry Association and Prime Business Consulting, AIPIA's representatives in China.
The program has been designed to explain why this huge market needs Smart Packaging and how the different technologies can be adapted to offer real value to the Chinese packaging sector, and end users in the food & beverage, pharmaceutical and cosmetics/personal care industries – all of which are undergoing enormous expansion.
A Keynote address by Talkin' Things, the first company in the world to offer a NFC based Smart Packaging System which integrates iPhone and Android users will set the scene. Other presentations will show solutions to China's growing counterfeit goods problem and how to improve supply chain management and control. In addition Brand Owners, such as Mondelez, will share their Active & Intelligent Packaging experiences.
Leading companies at the cutting edge of Active & Intelligent Packaging development are taking part. These include Amcor, which will demonstrate how it is able to add cutting edge technology on to traditional packaging solutions by accurately predicting the trend of the market. Systech will explain how companies can make their current packaging uniquely identifiable to prevent counterfeiting and diversion. While Evigence Sensors will explain how item level temperature monitoring can help reduce waste and improve the bottom line.
Active & Intelligent Packaging leaders from all across the value chain have signed up to take part in this ground breaking Summit. Leading innovators such as EVRYTHNG (digital ecosystems), Stora Enso (automated authentication and sustainable intelligent packaging), Kezzler (consumer interaction) and NXP (RFID and NFC) are all talking about applications relevant to the Chinese marketplace. In total 20 experts across the entire A&IP ecosystem will share their expertise.
An important feature of the Summit is a Speed Dating session where Active & Intelligent Packaging practitioners will have 2 minutes to get in contact with the many Brands already signed up to attend. There will then be the opportunity to continue one-to-one conversations after the session ends.
Eef de Ferrante, managing director of AIPIA urged the many Chinese Brand Owners, Packaging Manufacturers and Converters, Logistics Companies and Packaging Designers to sign up for the event. "This is a unique opportunity to discover how A&IP technologies can increase profitability, reduce waste and enhance sustainability," he said. "APAC, but particularly China, has the most potential growth prospects for Active & Intelligent Packaging on the planet. We believe the time is perfect to offer China's packaging professionals and Brand Owners – both national and international – a window into the complete world of Active & Intelligent Packaging solutions."
Turning the page on Active & Intelligent Packaging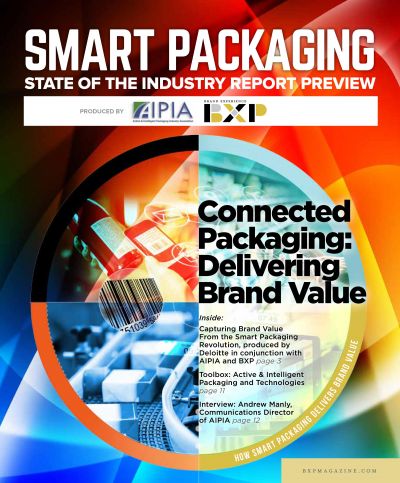 AIPIA, the Active & Intelligent Packaging Industry Association and BXP, Brand Experience Magazine have published a new magazine Smart Packaging – a state of the industry report – which is now available both on line and in a printed version. The publication reaches out to C-level management at Brands to help them evaluate the smart packaging revolution and how it can add value to their Brand.
Partner in the new magazine is Deliotte, which has recently completed an in-depth report on the value chain benefits of smart packaging Contributors are Evigence Sensors, which explains how seriously food waste impacts on the retailers' bottom line – and how this can be avoided; as well as Pack-Smart explaining how innovative packaging design combined with disruptive Active & Intelligent Packaging technologies need not lead to disruption of existing automation processes.
Other articles include a 'Toolbox' of Active & Intelligent Packaging technologies, to help those quite new to them understand what features are available and some existing applications; while Digimarc explains how smart barcodes can be a boon to the plastics recycling sector; and Zappar show how Augmented Reality brought 'life' to a campaign for localized mega retailer 7-Eleven.
Rounding off is an in-depth interview with AIPIA's communications director Andrew Manly, a 40 year veteran of the packaging sector, who offers a strategic vision of where Active & Intelligent Packaging has come from and where it is likely to go in the near future.
"This is our first venture into the printed word on this scale," explains AIPIA managing director Eef de Ferrante. "We are sure Smart Packaging is a valuable contribution to the whole discussion about Active & Intelligent Packaging and offers real insights which Brands can 'get their teeth into' and better appreciate the value of these technologies."
"We would like to thank particularly, Deloitte, Systech, Certilogo, Kaleidoscope, All4Labels and Smartrac for supporting this first edition. AIPIA looks forward to building on this success and increasing the profile of Active & Intelligent Packaging even more. We hope our members will join us to bring the issue to C-level Management at Brands via social media, and other means, to make the special report, in particular, go viral, and advance the whole industry together," he added.
To read the magazine on-line follow this link:
AIPIA Summit of the Americas 2019: Snacks, Packs and Facts!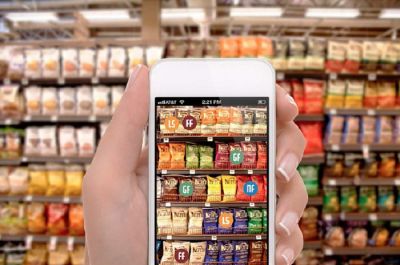 A packed program of over twenty five expert speakers, discussing everything from the latest disruptive digital technologies to a dynamic way to tell if milk is sour, ensures that every delegate at the second AIPIA USA Summit (New Jersey 3-4 June) will take away something to add value to their Brand and business!
A recent addition to the event is one of the most powerful names in the snacks sector, Mondelez, which will be challenging Active & Intelligent Packaging companies to come up with solutions for some of the most famous snack Brands in the world. Companies will have just a few minutes to pitch their ideas to the snacks giant, and convince them why their particular Active & Intelligent Packaging solution will add value to a single Brand or group of Brands within the Mondelez portfolio.
The level of interest in Active & Intelligent Packaging from Brand Owners has been rising dramatically recently, as has the number of applications in, for example, consumer engagement, product security, authentication and provenance. AIPIA accounts for this easily because the facts are becoming clearer:
Consumers want to be more involved with their products and make informed choices about what they buy, how they buy and when they buy – as well as the sustainability of the packaging. It needs a level of consumer interaction and information delivery which only Intelligent Packaging can supply.
Consumers are challenging Brand Owners to guarantee security, safety, authenticity, freshness and longer life quality. Active and Intelligent solutions can deliver all of these, often from one source, in a way which is cost effective and efficient, whilst still maintaining Brand and pack Identity.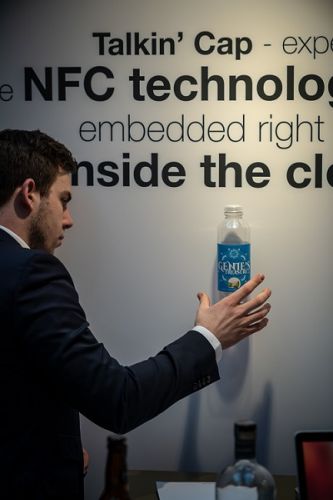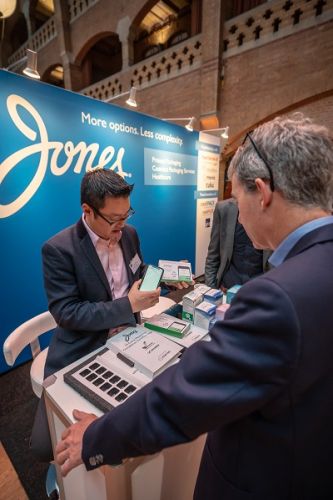 And Blockchain is quickly becoming the Retailers favorite means to authenticate product origin and quality. So Brands and their suppliers and logistics partners need to up their game to retain consumer trust. Active & Intelligent Packaging practitioners offer a range of Blockchain options and data capture solutions.
Information is power. While Active & Intelligent Packaging is delivering benefits to the consumer it is also enabling Brand Owners to understand what motivates them to stay a loyal customer. What will keep bringing them back to a particular brand rather than a competitor's product. How do they keep that happening? What is the best offer or price point? All this can be understood from a simple tap of a smartphone connected product.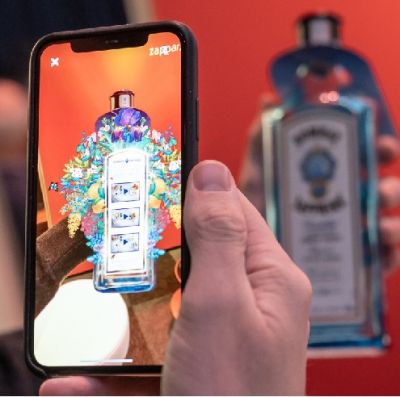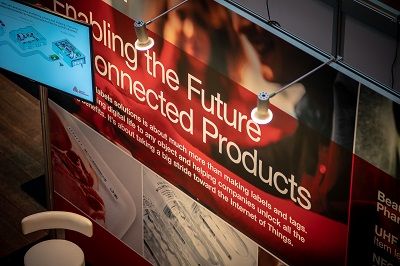 Supply chains just keep getting more complex. How do Brands and logistics companies ensure goods arrive intact, on time and in the best condition? Many now seek solutions from the Active & Intelligent Packaging community.
Experts, such as Digimarc, E-ink, PragmatIC, Talkin Things, Thin Film, Pack-Smart, EVRYTHNG, Wiliot and Zappar will discuss real applications as well as the latest Active & Intelligent Packaging develpments, research and trends. While Deloitte, VTT and Cambridge Design Partnership will offer insights about the way ahead.
Topics being covered include the tangible benefits of smart labels; bringing connecivity to everyday items; value creation using smart, reusable packaging; packages that talk; and smart packaging for hot consumer experiences.
Book your place today, it's the hottest ticket in town!
For full details of the Summit program and how to book: Agenda and registration here
Or click this link: https://events.bizzabo.com/AIPIA-Summit-USA/home
More information:
Andrew Manly
AIPIA Communications Director