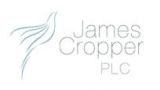 James Cropper PLC
This specialist materials group and makers of fine paper have an operational reach across more than 50 countries. James Cropper is a leader in each of the chosen market segments and your partner for bespoke solutions of new materials, technologies and fine paper.
James Cropper Speciality Papers
James Cropper Speciality Papers is a bespoke speciality paper manufacturer and one of the world's foremost makers of coloured paper.We can make virtually any colour of paper, from the purest whites to the deepest of blacks.
Also producing paper in numerous thicknesses, finishes and patterns supplied to many markets including;
Luxury Packaging
Creative Print & Design
Fine Art & Archival
General & Digital Print
and many more bespoke applications
James Cropper Converting
JCC is the world's only picture Matboard / Mountboard factory integrated with a paper mill and also manufacture Frame Ready Ink jet printable boards for retailers.
We produce a selection of laminated and coated papers and films with special effects and functions for a wide range of industries including;
Display Board for Point of Sale /
Point of Purchase advertising
Archival Storage and Conservation Products
Luxury Packaging Materials
and many more bespoke applications
Technical Fibre Products
TFP develop and manufacture high performance nonwoven materials.
We offer a diverse product range and have the capability to tailor materials to meet specific performance requirements.
Our nonwovens find application in a wide variety of fields including;
Surface Engineering of Composites
Fire Protection
Thermal Insulation
Power Storage
Cryogenic Super Insulation
Back to list
Visit website