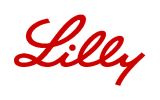 Eli Lilly & Co.
Lilly makes medicines that help people live longer, healthier, more active lives.
We were founded by Eli Lilly in 1876, and are now the 10th largest pharmaceutical company in the world. We have steadfastly remained independent, but not isolated. Across the globe, Lilly has developed productive alliances and partnerships that advance our capacity to develop innovative medicines at lower costs.
Lilly is consistently ranked as one of the best companies in the world to work for, and generations of Lilly employees have sustained a culture that values excellence, integrity and respect for people.
As a leading innovation-driven corporation, Lilly is developing a growing portfolio of pharmaceutical products focused on meeting some of the world's most urgent medical needs.
Lilly's growing portfolio contains pharmaceutical products that help meet medical needs in the fields of oncology, cardiovascular, diabetes, critical care, neuroscience, men's health, and musculoskeletal.
Lilly's commitment to innovation and care does not stop with humans. Elanco, a division of Lilly, is committed to quality care and product innovation for animals through protein production, companion animal health and food safety.
Back to list
Visit website