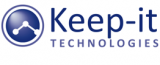 Keep-it
Keep-it knows at any time the actual shelf life of a product as it react to the variations of temperature the product has been exposed to. This means that you know much more about the durability of the product than what you can read from the static date stamp being used today.
How it works: The shelf life indicator has two chambers with different ingredients that react to time and temperature. Keep-it indicates how many days the food product will maintain its quality at the recommended storage temperature (4°C). At lower temperatures the food product will last longer and therefore it is not necessary to throw away good food.
Keep-it measures the fluctuations in temperature all the way from production to the consumer and indicates more precise shelf life than the traditional date-stamping. Should the food product be exposed to undesired high temperatures, the indicator will move more rapidly and vice versa.
Back to list
Visit website