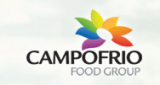 Campofrio Food Group
As one of the largest companies in the processed meats sector, we are, in many ways, the industry standard because of our in-depth knowledge of our customers and consumers which allows us to generate growth opportunities in all markets, and to deliver our goal: to become one of the leading European food companies by 2015.
We work in all sales channels and market segments, providing both traditional charcuterie and more modern, convenient foods: dry sausage, dry ham, poultry, cooked ham, hot dogs, pizzas, pâtés, meal components, sandwich spreads, ready meals and fresh and semi-fresh meats. This is an array of products which, due to its variety and quality, helps us to cement our position as the leading company in the European processed meats industry.
One of the pillars of Campofrio Food Group is our brand portfolio, one of the strongest in the industry with most of our brands being leaders in their respective local markets.
Back to list
Visit website