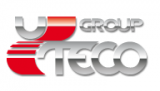 Uteco Group
Uteco Converting S.p.A. is the world leader in the production of printing machines designed for the most diverse flexible packaging applications.
Uteco offers innovative solutions through its broad range of flexographic and rotogravure printing machines, laminating machines and high-tech machines with special configurations, while constantly focusing on research and innovation.
The company's headquarters are based in Colognola ai Colli, to the east of Verona (Italy), and include some 65,000 m2 of production space, with 20,700 m2 in plant no. 1 and 4,500 m2 in plant no. 2.
Over 230 specialists in design, production, control, assistance, sales and marketing work in the plant.
Back to list
Visit website