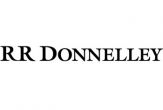 RR Donnelley
$11Bn global marketing communications company.
Offering one of the most complete product lines in the industry, we're ready to handle almost any label challenge you may encounter. We are experts in narrow web printing and utilize traditional and uv flexo, offset, screen, combination, and digital print technologies.
Providing customized design and multichannel integration, RR Donnelley's Printed Electronics increase the impact of print, helping you better connect with customers, manage inventories, increase productivity, comply with marking mandates, and more.
Now your labels, tags, Point of Purchase materials and other communications can work even harder, with our imaged RFID and NFC inlays. Our unique production capabilities allow us to customize the inlays for specific applications. Paired with our robust design and testing capabilities, RR Donnelley offers a complete suite of RF-enabled solutions.
From ideation to delivery, we are your 1-stop source for product packaging. We create and manufacture inspiring packaging while providing an optimized supply chain solution that works your product.
Continually innovating to service our customers needs we offer paper board cartons, rigid box, corrugated, labels, bound print materials, blister pack, plastic cartons and sleeves, smart packaging and more.
RR Donnelley Packaging Solutions produces packaging that will:
Protect your product
Catch attention
Engage your consumers
Strengthen your brand
Each year, we help put over hundreds of millions of packaged products into consumers hands worldwide. Superior quality is part of everything we do.
Back to list
Visit website