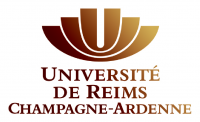 ESIReims
his multidisciplinary university (URCA) develops innovative, fundamental and applied research. It provides more than 25 000 students with a wide initial undergraduate studies program which corresponds to society's needs in all domains of the knowledge. The university also accompanies independent or company backed students in continuing professional development training.
Fulfilling students' needs is a top priority and URCA developed the student citizenship through the evaluation of its formations and is equipped with a student-services desk uniquely devoted to providing new students with information, a help desk to help students get employment placement and a follow-up evaluation.
URCA is situated in five different cities: Reims (main site), Troyes, Charleville-Mézières, Châlons en Champagne and Chaumont. The university largely contributes to the development of Champagne-Ardenne through its partnerships with local and national companies and the regional authorities. With 1557 teachers and teachers-researchers among whom 126 are hospital practitioners as well as a technical and administrative staff of 1038, URCA is one of the biggest employers of the region.
Back to list
Visit website