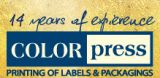 Color Press
We are a family owned and operated commercial offset printing press that has been exceeding the needs of clients since 1997.
Our graphic design team can take you from proof of concept to press-ready artwork quickly, to make your job go smoothly. Our new, state-of-the-art, high speed equipment can provide better quality than ever. It allows us to provide you with incredible quality at an exceptional price.
As a result of this combined expertise in the field of printing we have worked with a wide range of clients from Poland and other countries as well. ISO 9001:2008 Certificate confirms that our products conform to the highest standards of quality.
We have specialized in printing labels for alcoholic beverage industry, but since our technical possibilities are way beyond that, it allows us to work with customers from other lines of business who wish to put esthetically pleasing labels on their products.
Back to list
Visit website