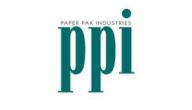 Paper Pak Industries
Paper Pak Industries has been providing absorbency solutions to food packaging manufacturers for over 50 years. Our products enable food marketers to improve consumer satisfaction by enhancing the shelf appeal of fresh meat, poultry, seafood and produce packages.
Founded in 1960, Paper Pak Industries is the largest manufacturer in North America dedicated solely to the manufacturing of absorbent mediums for the food, medical and safety industries.
With over 50 years of experience, we are the preferred supplier of absorbent products to the leading food processors, supermarkets, packaging manufacturers, medical facilities, first responders, industrial manufacturers, and commercial facilities.
Paper Pak Industries continues to pioneer the commercial absorbency market. Our two vertically integrated manufacturing facilities feature state-of-the-art equipment and systems that allow us to manufacture innovative products that deliver unique absorbency solutions.
Back to list
Visit website