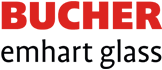 Bucher Emhart Glass SA
Bucher Emhart Glass is a company with a rich heritage and a tradition of excellence that we are proud to continue today.
Our founders laid the foundations for automation in glass manufacturing, setting us on a course of market-leading innovations that has lasted for almost a century. We created the industry-standard IS machine and have repeatedly delivered game-changing innovations in gob forming, container forming, automation, control and inspection.
Growing strategically through new branches, alliances and acquisitions, we have developed into a true global enterprise with the power to serve customers around the world with speed, responsiveness and understanding. Our global footprint provides the very best in established expertise, economical manufacturing and hands-on client support.
Our work is underpinned by a profound and unshakeable belief in glass as a packaging material. And we back up that belief with investment in R&D. Driven by our clients' priorities, we continue to work towards new milestones in production speed, product quality, testing precision and glass container strength. The ideas we have today will deliver the improvements of tomorrow.
Back to list
Visit website