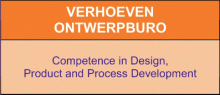 Verhoeven Ontwerpburo
Excellence in Design, Product and Process Development
Founded in 1987 by Rens Verhoeven (R&D manager at Dupont Electronics Division from 1972 till 1987).
Since then we have steadily built up a reputation as a respected innovation partner, now with a team of 9 professionals covering varying skills and backgrounds.
In 2001 Verhoeven Engineering became part of the ITB Group. We are responsible for product development within ITB Group and also we work as an independent consultant.
Back to list
Visit website