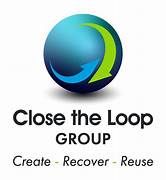 Close The Loop Group
End-to-end solutions for packaging and hard to recycle commodities.
With locations across Australia, Europe and the United States, Close the Loop Group create innovative products and packaging that includes recyclable and made-from recycled content, as well as collect, sort, reclaim and reuse resources that would otherwise go to landfill.
From recovering print consumables, eyewear, cosmetics, and phone cases, through-to the reusing of toner and post-consumer soft plastics for asphalt additive, we're focused on the future, sustainability, and the circular economy.
Back to list
Visit website