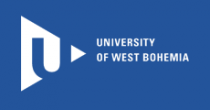 University of West Bohemia
The University of West Bohemia in Pilsen (UWB) is the only public institution of higher education based in the Pilsen Region. Currently, the University has eight faculties consisting of more than sixty departments and three institutes of higher education. More than 16,000 students studying at the University can choose from a wide of range of undergraduate, postgraduate and doctoral study programs, the choice of form of study, i.e. a full-time, part-time or combined form, being a matter of course.
The educational activities at the University of West Bohemia in Pilsen include life-long learning programs for the general public in the form of lectures, courses and comprehensive training programs, including the popular Third-Age University. In addition to its educational activities, the University is also an important centre of Research and Development, with massive investment in University development and construction activities on the University campus. The University campus, in particular, is currently undergoing very dynamic changes – with an annex to the University Library building, and new buildings of the European Centre of Excellence NTIS and the Centre of Technical and Natural Science Education and Research literally growing in front of our eyes. These investments are the largest in the history of the University of West Bohemia in Pilsen and, in the future, they will form a very promising base for even more intensive co-operation with universities all over the world not only in the field of Research and Development, but also in student mobilities. The newly constructed research centres will definitely strengthen the links between the University and businesses and other institutions. This is also one of the reasons why UWB scientists involved in various disciplines, as well as UWB students, win prestigious awards for their activities every year.
The University of West Bohemia in Pilsen has a significant position among universities in both the Czech Republic and Europe. This is documented by the ECTS Label (European Credit Transfer and Accumulation System designation) the University received in late 2012, which confirms that the study environment at the University of West Bohemia in Pilsen fully matches European standards. As a result, the University has officially entered the area of European tertiary education.
Back to list
Visit website