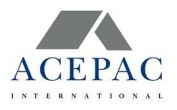 Acepac International (S) Pte Ltd
Acepac International is a Singapore-based company which was first incorporated locally in 1994. We first started out as a small entity dealing mainly in packaging materials such as self-adhesive tapes, packaging materials and fasteners.
Over the years, the Company worked hard to diversify and expand our business by working with overseas partners, which include production plants and joint-venture associates in Malaysia, Indonesia and China. These overseas ventures have made it possible for us to build up our very own in-house manufacturing capabilities, and extend beyond pure packaging to offer supply chain management and even Green Packaging concept.
In fact, the Company has established quite a vast network so much so that we have successfully become one of the leading total solution providers in the packaging industry in this region. These enlarged resources enabled us to effectively serve our regional and global client bases that have also significantly expanded over the years.
Today, we serve four main industries including the logistic, healthcare, retail and electronics industry. With some of the biggest name in these industries as our regular clients, we have proven ourselves as a reputable and experienced total solution provider in the packaging field, providing possible alternative solutions and options for our clients.
We will continue to keep abreast of the latest developments in the industry to enhance our technology and products by investing in research and development. The Company has plans to venture into the US, Europe and other emerging markets to tap on their resources and advance technology.
Back to list
Visit website