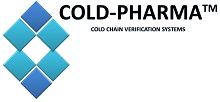 Cold-Pharma
Cold-Pharma is a highly regarded enterprise. The mission of the company is to provide its customers with a reliable method of monitoring their products throughout the entire supply chain, bringing any refrigeration flaws to their immediate attention and enabling fast, efficient corrective action.
Cold-Pharma manufactures and sells its amazingly innovative product worldwide: without doubt, the most practical and cost-effective method of ensuring continuity in the cold chain and can be attached to all refrigerated items.
In this instance, simplicity truly is the name of the game! We know because we invented it.
Simply adding an ink block to a normal-looking label, we are able to guarantee that the temperature of any item bearing the label can be monitored – at a glance. The feedback from the label provides not only important information but peace of mind. Our mission is to help you monitor the cold chain all along the route: from the warehouse to the retailer.
Clearly it is not magic: the secret lies in our proprietary magnetic ink. If you are experiencing problems maintaining the quality of your perishable items, we have the solution you have been searching for! All field data is automatically relayed to our electronic data-base and customers have full access to the information stored on their behalf, thus facilitating statistical analysis and the implementation of waste reduction practices. The system is really plug and play as well as stand-alone.
Back to list
Visit website