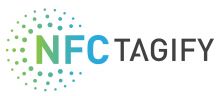 NFC Tagify
NFC Solutions Ltd. is one of leading high-tech companies specialized in the RFID & NFC products manufacturing and in providing a contactless solution that connects the physical & digital worlds by enabling a direct brand to consumer mobile engagement.

We manufacture all types of RFID & NFC products which range from low frequency to ultra-high frequency featuring various types of chips and labels with different shapes and materials, providing contactless business solutions in UK & Europe, including NFC tags, stickers, chips, smart labels and PVC cards for business ID and Smart Phones.

We accept all OEM or ODM orders from the global market and provides technical consulting service and support. All our NFC products are manufactured to comply with NFC Forum specifications and the ISO9001.

Our products are used in fields like intelligent marketing, storage, logistics, supply chain management, anti-fake, access control, payment, data transmission, asset management, event & music festival & waterpark, and information security.

Back to list
Visit website