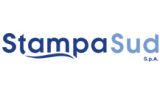 StampaSud Uk
Stampa Sud is a leading company in the printing industry. From the acquisition of digital data, to the distribution of the printed product, we are able to oversee and control the whole productive cycle, giving quick results over a wide kind of printing needs.
Our technical and experience know how ensures that we are able to create value and to give shape to your commercial and advertising ideas.
Our Mission Statement is "We know your idea value" and it indicates a great service orientation and care for the customer's communication idea: from the creation to delivery, we are able to provide you with integrated solutions to realize your printed products.
Back to list
Visit website