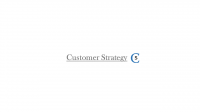 Customer Strategy
Customer Strategy was started in 2009 to help companies grow their top and bottom lines by analyzing strategic opportunities, market trends, customer and channel needs, and business performance.

We synthesize these different inputs into revenue-generating recommendations.
​Our management team is made of former C-level executives from both major public and private enterprises. We are seasoned thinkers. We have worked for a variety of B2B and B2C companies, including The Home Depot, the Coca-Cola Company, Kraft Foods, Campbell's Soup Company, Georgia Pacific, Greenlight Financial and Jaipur Living.
​We have stood in front of CEOs and Boards, and weighed and advocated opportunities.
Because of this, we provide pragmatic, financially sound business solutions.
​Our service model is based on open communication, upfront but diplomatic presentation of information, and sound recommendations that result in documented growth for our clients.
​
Back to list
Visit website