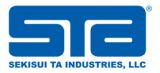 Sekisui TA Industries
Sekisui TA Industries (STA), headquartered in Buena Park, California, is a subsidiary of Sekisui Chemical Co., Ltd. of Japan. Founded in 1976, the company pioneered high quality acrylic pressure-sensitive tape products and also label overlamination products. Today, STA's products include a broad line of high-performance acrylic carton sealing tapes, industrial and specialty tapes, carton sealing equipment, and a full line of polypropylene and polyester overlamination products for the label market.

The comprehensive line of overlamination products include SuperClear "No Label Look" finish, matte finish, Thermal Transfer Printable, UL-recognized, Silicone Coated Easy Release, and more.

STA's five national locations perform as an integrated network of manufacturing and distribution solutions operated from our Buena Park, CA headquarters. Our manufacturing plant in Rogersville, TN feature state-of-the-art coating and slitting equipment. Our warehouse locations in Neenah, WI, Dallas, TX and Somerset, NJ cover all of the United States for quick delivery and dependable customer service.
Back to list
Visit website