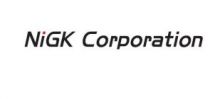 NiGK Corporation
Manufacturer of temperature indicators.
NiGK Corporation originally was established as Teikoku Explosives Industries in 1938. And ever since we started, we have been continuing to develop and manufacture explosive devices and temperature indicators and so forth to deliver the wide variety of ingenious and innovative products to customers.
Our products have been promoted under the company's catch phrase "From the Ocean to Outer Space", and have been adopted and used widely in a wide range of areas ranging from deep-sea bottom to outer space beyond the earth, contributing to safety and reliability assurance of the various systems. Being proud of the achievement we've made, we have great pleasure and honor of working, and are committed to being the company that can continuously gain trust and satisfaction from the society, our employees, as well as customers.
In order to keep up with rapid changes in the world and continuously satisfy customer needs, taking advantage of total power of NOF group, we will further continue to improve the unique and innovative technologies we've developed so far, and create cutting-edge values for the future. Also, we will fulfill our corporate social responsibility as the research and development oriented company that satisfies all of you in terms of safety and reliability.
Back to list
Visit website