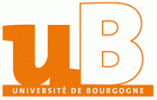 University of Burgundy
Located in Burgundy, between Paris and Lyon, uB has its main campus in Dijon, and several others spread across Burgundy.
It counts 10 faculties, 4 engineering schools, 3 institutes of technology offering undergraduate courses, and 2 professional institutes providing post-graduate programmes.
uB enrols 27,000 students, among whom 3,000 international students, every year.
Fully involved in the Bologna process, uB offers 70 Bachelor programmes, 95 Masters programmes, 16 undergraduate technological programmes, 4 postgraduate engineering programmes, as well as PhD programmes in every field.
Back to list
Visit website