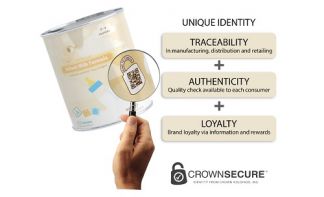 NEWS: New Can Code Offers Security and Marketing Opportunities
08-11-2016
To help brands improve product traceability and support greater consumer engagement, Crown has developed CrownSecure™, a code scanning system for cans that assigns every package a unique identity, quick response (QR) code. During manufacturing and distribution, product information is stored in a central database and can be accessed at any time by brands, retailers or consumers by scanning a code on the container.
The CrownSecure database assigns a unique ID to each package and stores a variety of information on the product, such as origination, expiry date and supply chain information. This enables Brands to regularly update the product's status, building a data trail. Consumers wanting to purchase the product can validate its authenticity at any time via a mobile phone or web application.
The code can be laser etched or applied with an inkjet system onto the cans as part of the manufacturing process. All codes are marked and validated before supply, helping to improve efficiency on filling lines by limiting downtime and eliminating the need to purchase additional equipment to apply the codes, says the company. This process also ensures the codes are highly readable, making it easier to scan.
As well as offering anti-counterfeit security CrownSecure offers enhanced consumer engagement. The technology makes a range of promotional opportunities possible by allowing consumers to access reward programs or additional product information after scanning the QR code, which directs users to online channels or websites.
REGISTER FOR
AIPIA CONGRESS NOW
News overview