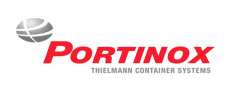 Portinox S.A.
Our company was founded in 1965 and is headquartered in the province of Granada (Spain). Its core business is the transformation of stainless steel into a great variety of industrial products. Since 1978, the year in which PORTINOX was incorporated in the Teka Group, the company has experienced a spectacular growth and international expansion, becoming the world market leader in the transformation of stainless steel. Teka Group has two main business lines. On one side, Teka Kitchen&Bath division and on the other, Container division. PORTINOX belongs to the Container Division, also called THIELMANN CONTAINER SYSTEMS, which is recognized by its corporate image THIELMANN.
MISSION
Our mission is to provide advanced packaging solutions made of stainless steel for the transport and storage of a great variety of products from several industrial sectors, with the expected quality and quantity, in a timely manner. In order to do that, we support ourselves in the product diversification within the stainless steel industry, where the manufacturing of other products makes us able to offer the highest degree of flexibility and customization.
VISION
Our vision is to become the world market leader in stainless steel containers for all industries by 2020.
Back to list
Visit website