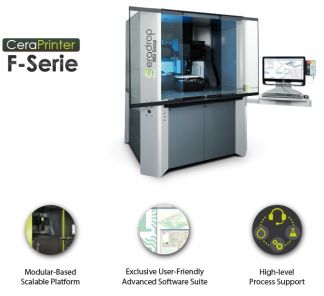 NEWS: Hybrid Printing and Digital Tech to 'Revolutionise' Smart Packaging
29-10-2017
The next generation of packaging tends to drive high added value and new revenues opportunities to conventional packaging and make it fun, exciting and now intelligent using innovative Printed Electronics says MGI and CERADROP. The companies are developing products and equipment for scalable smart 3D printing and printed electronics (PE).
PE enhances the attractiveness of consumer packages with integrated intelligent functions such as sensing, tracing, or communicating, they say. Their talk, during the Congress, will highlight state of the art technology addressing this sector:
- Advanced platforms with hybrid printing and digital technologies
- Multifunctional material development for Printed Electronics: conductive, dielectric….
- Multidisciplinary PE applications fields: Smart communications, RFID, OLED, new Technologies for Energy, Biomedical, and others
- Finishing solution: varnish tactile effects, hot foiling, embossing…
- Variable data hologram.
C Dossou-Yovo and Alexandre Tavernier of MGI/Ceradrop will be joined by Nicholas Venance of Editions STIM to explain how materials deposition digital printers for PE and Smart 3D printing present new opportunities for feasibility study and launch of new products into the PE market. Combining several materials deposition technologies as well as the latest generation of curing modules allows wide range of applications such as: membrane switch, antennas, sensors, passive components, interconnection, flexible solar cells (OPV), OLED Displays and others.
Find more information on the presentation here!
News overview