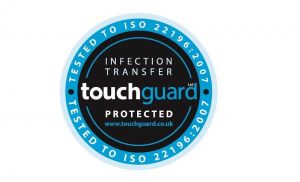 Touchguard
touchguard is a new and effective surface coating technology that virtually eliminates the risk of person-to-person transfer of potentially fatal infections such as MRSA and E.coli through shared handling of paper, card or board products.
If you operate a fast food outlet, tourist attraction, cruise ship or are any other kind of retailer whose customers handle printed material you provide, touchguard can help you avoid the accidental spread of 'touch'-transferred infections - which could also threaten the health of your business!
touchguard is applied during print finishing as a component of a specially formulated varnish which can be oil- or water-based. As such it adds only fractions of pence per copy, keeping your print costs as low as possible whilst potentially saving you thousands of pounds in sickness compensation and adverse media attention.
Back to list
Visit website