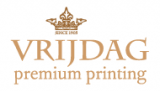 Vrijdag Premium Printing B.V.
About Friday
Friday Premium Printing, founded in 1905, offers you one stop, fully integrated printing service for the B2B industry.
Our strength is that, in addition to offset and gravure printing, we can also apply a wide range of special and unique finishing techniques. Thanks to our employees and their years of knowledge and experience, we can guide and advise you in the design and printing process. We create eye-catching labels and packaging that emphasize the look and feel of your brand.
In addition, we have assembly lines to make 3D cardboard packaging, such as gift boxes, folding cardboard boxes and flap boxes. We work for clients in various sectors, such as Health & Cosmetics, Spirits & Beer, Retail, Cosmetics, Tobacco, Chocolate and Advertising & Design Agencies.
From technical and design support to high-quality production, Vrijdag Premium Printing gives your product the professional and expert attention it deserves.
Friday Premium Printing also works together in a network of specialized suppliers. Sometimes for tools or special materials, at other times for specialist operations. We always assume the role of main contractor, so that you are unburdened and we bear ultimate responsibility.
Vrijdag Premium Printing specialises in producing luxury labels and high quality packaging. Many of our numerous clients produce luxury consumer goods – such as tobacco, champagne, cosmetics, spirits and chocolates – with famous brand names. Our products are used throughout Europe, the States, the Caribbean and beyond. We have been in the business for more than a century and have won several prestigious awards such as the 'Sappi International Printer of the Year Award' and the 'Gouden Z Award' for our quality.
Industry
Specialized Packaging & Printing
Back to list
Visit website