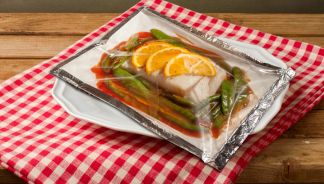 NEWS: Bags of Flavour!
15-03-2017
An ovenable cooking bag, which uses herbs and spices to flavour the food while cooking, is the latest product from food packaging manufacturer Sirane. Bags of Ideas – a new campaign showcasing the company's cooking bag solutions – features an addition to its BBQ/oven cooking bag using a blend of kilned beech mixed with frozen herbs and spices, which are placed in a sachet and slipped below the bag's siliconized layer.
Simon Balderson, Sirane managing director, commented, "This is a fairly simple idea, but one which transforms a cooking bag in to a bag of flavour. This could be a great option for retailers and a very versatile solution. It could be used over the counter with fresh food, supplied shipped into store with the flavour sachet already in the bag, or could even be used as part of a meal kit for the consumer to use," he explained.
The Sira-Cook Supreme bag is simple to use and can be used in almost any cooking environment, from ovens to barbecues, griddles to hot plates, says the company. The wood chip sachet blended with herbs and spices is placed below the perforated non-stick layer, allowing the flavours to come through while the food is cooking.
The foil bag is capable of withstanding significant direct heat, allowing for its use on a barbecue as well as in an oven. It is great for meat, poultry and seafood, according to Sirane. It is available in a number of sizes and comes with a clear top panel – so users can see what's being cooked – and can be heat-sealed or even supplied as self-seal.
"We've some interesting flavours on offer, with the potential to create bespoke flavours for individual customers, so this product has lots of potential ," said Balderson. The bag also comes with a novel opening mechanism – when the bag is hot the top surface can be peeled away, leaving the food on a foil base. It can then be stirred, turned if required, allowed to cook for longer and browned, or served directly.
These bags can be supplied in FPS format – folded, packed and sealed – which is an individually-wrapped sachet perfect for use in meal kits and as part of ready meals..
News overview