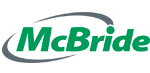 McBride,S.A
Leadership in Private Label
We're the clear leader in Household and Personal Care products.
We develop and supply products for sale under retailers' own brands, these are often referred to as private labels, store brands, own labels, distributor brands and discount brands.
Private Label's play an important role in today's economic environment through:
The attraction of lower prices and value for money for consumersThe attraction of higher margin products for our retail customersEnabling retailer differentiation and building customer loyaltyProviding opportunities for category segmentation with economy and premium rangesProviding further growth opportunity in both developing and emerging markets
Our scale gives us key advantages. But it's not just our size that makes us leader.
We innovate so that our customers get better products that deliver value and performance for consumers.
We're efficient, which means we can deliver products at the right time, at the right cost.
We specialise in two product sectors we know well: Household cleaning products and Personal Care products.
Sustainability is at the top of our agenda for product development, improving our products and processes to reduce environmental impact.
We work with Europe's most successful retailers and are passionate about growing their private label offer.
All this allows us to maintain our leadership.
Back to list
Visit website