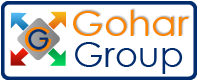 Techind Engineers & Consultants-Impex.
The Gohar Group, founded by Late Sh. C. D. Gohar (1916 -1983), a family business, has acquired a prominent place, on today's industrial map of the country, as a progressive enterprise in the private sector. Group is actively engaged, with its businesses interests, in the GENERAL MANUFACTURING, PHARMA & HEALTHCARE, INFORMATION TECHNOLOGY (IT), TELE-COMMUNICATION, ENERGY/OIL & GAS, BANKING & INSURANCE, INFRASTRUCTURE & CONSTRUCTION, ENVIRONMENT CONSERVATION & RE-CYCLING sectors of industry, with a broad experience and on a strong foundation. While, EDUCATION sector is more of a philanthropic endeavor of the Group, a vision par excellence of our chairman, a genius in late Sh. C.D Gohar. This tradition took the shape of a healthy trend for all to follow, contributing in future of this organization. Groups employ (on/off roll) over 500 committed manpower, as on today. Off roll/Contractual employment is more in the Service sector, mainly under our company 3S (Signature Services Syndicate) a Delhi based entity of the Group. Other Group Companies and associates both in manufacturing and allied consultancy services are on regular rolls, in full time employment of their respective companies.
At Gohar Group we believe in mutual Growth. Our Vision is our client's Priorities". If you aspire, it is very much in your reach
M/S. Techind Engineers & Consultants-Impex., a firm of the Gohar Group, with its Registered office at D-386, Pul-Pehladpur, New Delhi-110044, is a partnership entity. Firm is registered with the Registrar of Firms to carry out the business of Turnkey Project Engineering & Management Consultancy. We are a team of well qualified and experienced Technocrats, operating PAN India, rendering professional services in our territory including SAARC region Countries as well.
Firm is also engaged in the representation of foreign principals, from Europe, U.S., Japan & Korea to market their machinery, equipment & Technology/ know-how to various clients worldwide. We have handled over 100 Projects in various Industry sectors: Industrial Machinery (Process & Packaging), Solar Energy, Pharma/ Biotech, Chemicals, Toiletries & Cosmetics besides Processed food and allied areas, in our territory. Import/ Export of Industrial machinery is one of the main interests of the firm, its expertise as a trading business House
Back to list
Visit website