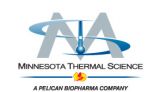 Minnesota Thermal Science, A Pelican BioPharma Company
Since 2004, Minnesota Thermal Science (MTS) has been a global leader in providing the life sciences industry with a comprehensive suite of patented and award winning thermal protection packaging solutions for the safe transport of pharmaceuticals, tissue, diagnostics/clinical trials and blood supplies.
Based in Plymouth, MN, MTS serves clients worldwide and continues to develop products and services that provide unprecedented thermal protection for temperature-sensitive products from 2 to 96 liters (and pallets) in all temperature ranges for up to seven days.
At the cornerstone is the reusable Credo Cube which protects payload contents at defined temperatures longer than any other passive thermal control packaging available. MTS has acheived success worldwide through innovative technology, customer satisfaction, company growth and industry recognition.
Back to list
Visit website