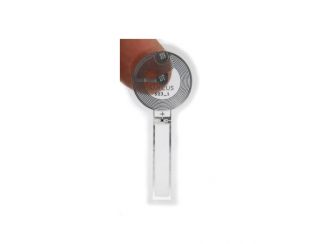 NEWS: Tamper Evident NFC Tag is Aimed at High Value Products
31-01-2018
Smartrac has released the Circus Tamper Loop tag as part of a series of RFID-based products for authenticating high-value products and goods. It represents the latest in the technology company's Near Field Communication (NFC)-based product line. The tag is being sold in samples to companies such as motor oil, baby food and high-value item brands, as well as pharmaceutical manufacturers. Other potential customers are makers of premium wines and champagnes, it says.
The small, round inlays and tags transmit data via high-frequency and NFC 13.56 MHz. As the growth of NFC applications continues, the Circus tags are being used to provide consumers with marketing content, as well as authentication, in order to benefit brands, logistics providers, retailers as well as consumers.
This new tamper-evident version of the Circus tag can detect whether a product to which the tag is attached has been opened or otherwise tampered with, and then transmit its status when interrogated with an HF or NFC reader or mobile phone.
It describes the tag as a digital seal that provides smart packaging and brand protection. The tag can be customized according to a specific customer requirement, says Ted Danhauser, Smartrac's sales VP for the Americas, so it can be applied to bottles, boxes or blister packs.
The tag uses a NXP Semiconductors NTAG 213 TT chip that can detect changes in tamper loop resistance while the antenna still responds to interrogation. The tamper loop can be fitted to a bottle cap or the top of a box. Tampering breaks the loop antenna, thereby altering its resistance. The NXP chip detects that changed resistance and then flips a single bit, permanently, so that the tag still provides the unique ID along with the changed status.
News overview