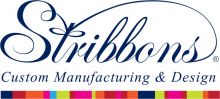 Stribbons, Inc.
Stribbons is a company of artistically inclined professionals who help guide customers during the process of creating a brand identity through the use of packaging, branded ribbon treatments or customized embellishments.
Our trend setting packaging ideas are seen in a variety of industries including Fragrance, Cosmetics, Luxury goods, Specialty foods, and Liquor. We have a staff of graphic artists, trained sample designers and sourcing individuals who all strive to help create the right look for your signature product. Our sales staff is spread across the United States and also found in Great Britain.
You will find customized packaging solutions created by the Stribbons team on the shelves of stores like Neiman Marcus, Macy's and Bloomingdales, Harrods , or the club stores like Costco, and at Walmart. We are also in many catalogs and on line retailers.
Back to list
Visit website