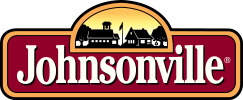 Johnsonville Sausage
Our Mission Statement
We here at Johnsonville have a moral responsibility to create and maintain an environment that requires each member to fully develop their God-given talents. We achieve this by living the Johnsonville Way.
Committed to Animal Well-Being
Johnsonville Sausage, LLC, is committed to the well-being of our animals. It is our moral and ethical obligation to ensure our animals are treated humanely at all times. As we have always done, we continue to improve equipment and facilities, educate our employees in ethical treatment practices and actively pursue new technology to further enhance our handling practices
Committed to Sustainability
At Johnsonville Sausage, not only are we committed to providing consumers with great-tasting, high-quality sausage, but we are also dedicated to sustainability.
Back to list
Visit website