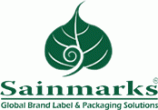 Sainmarks Industries (India) private Ltd
Branding & Packaging.
Style, code, size, washing instructions, branding… in the textile apparel industry, printed fabric labels carry important information for both the consumer and the retailer; information that can make a real difference at the point of purchase. Little surprise therefore, that selecting your printed fabric label supplier is an important choice; a choice that can have significant influence on supply chain efficiency and brand recognition.
Back to list
Visit website