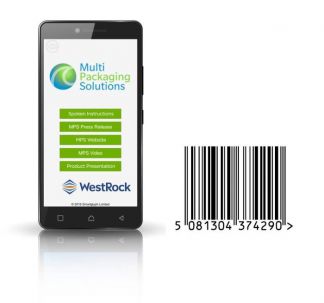 NEWS: Standard Barcode Turns into a Smart Communicator
29-11-2017
Multi Packaging Solutions, (MPS), a WestRock company and a leader in value-added print and packaging solutions for the healthcare, branded consumer and multi-media markets, is making packaging smarter through a partnership with Smartglyph, a UK technology business.
Without any change to the existing packaging or barcode, SmarterBarcodes transform a standard barcode on any product or packaging format into a two-way interactive communications channel. This allows consumers to interact with a brand and product by simply scanning the standard barcode on the product with any mobile device that has a camera.
This technology optimizes the use of existing space and requires no artwork or pack changes. It can immediately make packaging interactive giving the consumer access to enhanced product information, videos, discount coupons, games or promotions, say the companies. Also it can support provenance and anti-counterfeit requirements. No data is held on the graphic only a 24 digit number which is a pointer to a server. It can carry unlimited content.
"The Smartglyph technology offers brand-owners the global capability to communicate with consumers in a way that hasn't been possible before, at a price that's cost-effective even on the smallest pack size," said Carol Hammond, VP Innovation – Europe, with MPS. "It combines the best features of several technologies in one system and we are really excited about its potential for consumers and brand-owners as the experience is completely different."
Additionally SmarterBarcodes offer the potential to gather consumer information. This allows campaigns to be modified whilst remaining live and creating an instant brand-to- consumer relationship. The technology is deliverable today, scalable, cost effective and globally accessible in any language for Brand campaigns in every region, in their local language, they claim.
The patented technology requires the user to download just one generic app, which can also be embedded within a manufacturer's app. The app is compatible with any mobile device with a camera. The Brand-owner has the ability to personalise the app and action campaigns in real-time, deciding what the consumer sees after scanning the barcode. This provides the flexibility to adapt or completely change a promotional campaign without changing the packaging.
News overview