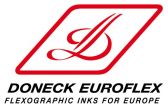 Doneck Euroflex
The Doneck Network currently covers five locations. On the one hand, our aim is to efficiently pool key competencies, while the resources necessary for meeting customer needs on site are provided locally at the subsidiaries.
Its headquarters are at the Luxembourg-based Doneck Euroflex S.A., which acts as a parent company for the other branches. Logistically well-positioned for European business, this is where all production stages for the entire printing ink range take place.
The four European branches in England, Poland, Spain and Hungary, are located strategically to ensure Europe's major economic regions can be supplied quickly and reliably. All companies boast state-of-the-art dispensing systems, ink laboratories and a local distribution network.
Back to list
Visit website