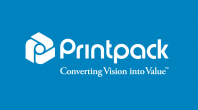 Printpack
At Printpack, our Sustainable Business Development can be summarized with four P's –
PEOPLE, PURPOSE, PRODUCT, and PROCESS.
PEOPLE
Printpack's more than 55 years of success can be attributed to one key ingredient – its people. Our empowered associates work closely with customers to develop packaging that safeguards their products in a way that is responsible for the customer, for Printpack, our communities, and the environment around us.
PURPOSE
Our purpose is "to be recognized as a responsible leader in the design and development of both packaging and operational processes that promote a more sustainable business proposition."
PRODUCT
Product strategy includes a portfolio of sustainable structures using renewable and recycled content, as well as maximizing design opportunities for source reduction and an optimal end-of-life condition. Consult with Printpack for:
The latest technology in high performance materials
New and emerging bio-materials for a wide range of applications
Source-reducing package design
PROCESS
Our process includes developing and using systems in our manufacturing operations that ensure the highest standards in plant emissions, waste reduction, and consumption of natural resources.
Back to list
Visit website