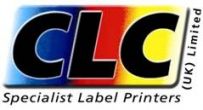 CLC (UK) Ltd.
CLC(UK)Ltd have been trading in conventional narrow web flexographic, hot foil, thermal transfer laser & subsequently digital printing since 1983; producing a multitude of printed & plain labels, tickets, rolls & sheets to a spectrum consumers in a multitude of market places and not confined to the retail supply chain as such.
The core skill set was always to "engineer" solutions with more innovative fabrications, constructions & technologies and it was primarily due to this reputation that we were approached by T.I.(Texas Instruments) 1998 to become an authorised convertor of their passive HF(high frequency) RFID (radio frequency identification) antennae & pre-bonded chips for the U.K.
Our initial claim to fame was to have produced the first commercially deployed HF smart label in the UK for a systems integrator which was used in the retail supply chain.
Another key differentiating aspect of CLC's trading is that they are essentially a trade house, supplying to re-sellers such as print management companies with their more traditional printed products & this principal was logically extended to the then emerging RFID market by partnerships and collaboration RFID hardware vendors, software developers, systems integrators & has continued to be a successful strategy ever since together with Mobile App (application) developer for the Android NFC (near field communication) market.
In has served to keep their overheads to a minimum and clients are assured of confidentiality in all matters.
Applications for which CLC have manufactured RFID media solutions include: Medical, Construction, Libraries, Transport, Lone Worker, Security & Anti-counterfeiting & Consumer POS.
Back to list
Visit website