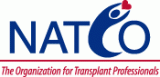 NATco
The NATCO membership is comprised of a diverse group of professionals. Procurement practitioners manage the care of the donor to ensure organ viability, consult with families in their donation decision, arrange for the surgical recovery of organs and match donor organs with recipients.
Transplant practitioners manage the pre-transplant evaluation process, monitor the patient's level of wellness, adjust the patient's priority listing with a national computerized tracking system and manage the care of the recipient post-transplantation.
Hospital development specialists determine the level of potential for donations within hospitals and work with hospitals to educate medical and nursing staffs about donation to ensure referral of potential donors.
Back to list
Visit website