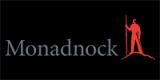 Monadnock Paper Mills
Monadnock provides Custom Solutions for the Technical/Specialty and Converting paper markets.
Through one-to-one customer partnerships Monadnock custom designs papers to meet or exceed the most stringent client specifications and needs. These open, yet confidential, development programs yield value-added products that create greater client efficiencies and improve end-use product performance.

Monadnock creates lab prototypes, runs on-machine production trials, followed by scale up orders and monitors all ongoing production runs through the creation of rigid specifications and constant in-line process control.


Back to list
Visit website