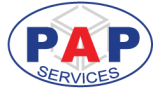 PAP Services Limited
Established in 2003 and now with personnel who bring together a total of more than 50 years experience and expertise in the supply and after sales service to primarily the Pharmaceutical, Cosmetics, Chemical, Healthcare and Food Industries.
Our extensive team of experts, associates, partners and network are able to provide our customers the very best and professional support, service, trouble shooting, project management and honest sales and marketing of Packaging and Processing Machinery.
Principal Lines of Supply and Services include:-
Complete turnkey packaging liquid, powder and tablet lines. Aseptic and sterile plastic and glass vial filling lines. Thermoforming for Pharmaceutical and Healthcare packs such as vials, ampoules and syringes.
The vertical thermoforming machine for the production of suppositories ovules and unit doses. PAP Services makes use more and more of innovative technologies and electronics satisfying the production speeds requested today and the versatility for size part change over to optimise time and production costs.
Back to list
Visit website