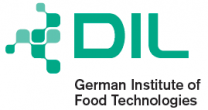 German Institute of Food Technologies (DIL e.V.)
The German Institute of Food Technologies (DIL) is a multi-disciplinary, non-for profit membership based research institution fully integrated in the scientific community. With its' strong links to industry and more than 170 company members, DIL helps to increase the value of food and feed products and ingredients. The principal function is the development of innovative solutions for products and processing technologies (for more functional and healthier foods) based on a sound knowledge of the inherent molecular structure, chemical properties and interactions of the material. The institute's competences and technical capabilities span the full range of food technologies. Through network and training, research results are transferred to industry, hence bridging the gap between academia and practice thus making DIL a driving force for food processing innovations. Member companies of DIL are from food, feed, ingr edient processing and machine manufacture sectors. Projects in basic research and the pre-competitive field are organized by means of the institute's five research platforms: Structure and Functionality, Advanced Research (including process engineering and chemical analytic), Biotechnology, Petfood and Feed Technology and Network Coordination. These platforms acquire research findings and generate adequate results. Despite the DIL's excellent funding rate, administrative and personal costs must be balanced. This is done by the business divisions, which not only compensate for these outlays through contract research, but also close knowledge gaps in the food production practice. The Food Data Group is a cross-sectional division. It connects and facilitates the research activities by the analysis of food data streams.
DIL has a staff of more than 180 employees who are dedicated to linking science and practice to support SMEs in the development of innovative ideas for a successful future. Due to its extensive cooperation with universities and the integration into European and international research networks, DIL is an acknowledged cooperation partner for the industry and acts as a safeguard for successful outcomes. Product development, process optimization and quality assurance are key factors for securing the future of companies in times when consumers demand high food safety standards and globalization is stiffening the competition. The German Institute of Food Technologies has already proven to be a reliable partner in helping companies to solve these issues.
The institute has a good track record of multidisciplinary projects and is involved in several Horizon 2020, FP7, ERA-Net, INTERREG and national projects. DIL is also a member of EIT Food. It coordinates and/or leads research projects on a national level (several pieces of mainly pre-competitive research) and on a European level (FP7, H2020).
Back to list
Visit website