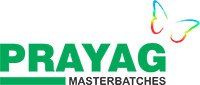 Prayag Polytech PVT Ltd
India's leading supplier of Masterbatches since 1996
Headquartered at New Delhi with Three manufacturing facilities in total of 25,000 sqm area at Bhiwadi, Rajasthan, India
Cumulative Production Capacity of 60,000 MT Per Annum
Global Presence with channel partners in 80 Countries across all the five continents.
Complete range of Color, UV, Additive, Black, White and Mono Concentrate/ SPC Masterbatches
Two Star Export house status as recognised as a TRADING HOUSE by the Government of India, for its contribution to Exports.
Products for all Plastic Conversion processes like- CPP, BOPP, Blown Films, Extrusion Pipe, Injection Moulding, Blow Moulding, Rotomoulding, Raffia etc.
ISO 9001:2008 certified by Joint Accredition System of Australia & New Zealand ( JAZ-ANZ)
Established in 1996 at New Delhi India, PRAYAG POLYTECH PVT LTD has been growing exponentially over the last 10 years. Prayag today, thus has grown to become the Leading and the most Advanced manufacturer of Colour and Additive masterbatches from India.
The company is growing from strength to strength with the help of its strong R&D division to develop products for new applications. Some of the advance d equipments being used in Prayag's QC and R&D lab include DSC, TGA, FTIR, FPV testing machines, Spectrophotometers, QUV Accelerated Weathering Tester, UV Testing Machine etc
Prayag with its proven range of masterbatches for some of the most critical applications like Synthetic Fibres (Non Wovens, Turf, Textiles, Carpet), Single Pigment Concentrates( SPC/MOC), CPP, BOPP etc, has established it's credentials as a Knowledge Player in the field of masterbatches.
Prayag's Three Production facilities at Bhiwadi, Rajasthan India, with a production capacity of 60,000 MT per annum and multiple dedicated lines for each colour, ensure faster deliveries, flexibility and zero contamination.
We pride to have invested in pilot plants for end moulding process which includes Rotational Moulding, Blow Moulding, Fibre extrion, monolayer film, Multilayer film, PET Injection Blow Moulding. These pilot plants provide us the ability to understand and provide more accurate solutions to our customers, by being able to simulate their process requirements on our inhouse Pilot plants.
With its focus on Quality, Consistency, Competitive Pricing and Outstanding Service- Prayag has fast established its presence across the world, with channel partners present locally across 80 Countries spanning The Americas, Europe, Africa and Australasia. As a result of it, today 80% of the company's revenue comes from Exports.
With an experience of matching over 10000 shades, Prayag has developed the unmatched capability to custom match shades with utmost precision and accuracy. Prayag has also developed the capability to work with most of the polymer types and offers masterbatches with base carrier resin as PE as well as PP, PET, HIPS, GPPS, PBT, Nylon 66, EVA etc.
Prayag offers complete range of products for all major applications like Food and industrial Packaging, Textiles, Household products, Agriculture, Automotive, Consumer goods, Healthcare etc.
Company is continuously expanding its production capacity and encourage more channel partners to help us further expand across the world.
Back to list
Visit website