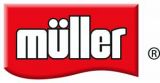 Müller Dairy
When yogurt-loving Ludwig Müller first established his little Bavarian village dairy back in 1896, he could scarcely have imagined the staggering success it was to become. Today his grandson Theo runs a hugely successful business, making it possible for people across Europe to enjoy the great taste of Müller.
When Theo Müller took control of the family business in 1970, he recognised that the local popularity of his dairy's brands could be translated into national success if he improved the recipes and gave the products some heavyweight marketing support. Clever.
The company began to grow very quickly, and in 1980 launched an innovative snack with fruit sauce and dairy rice in the same container – the genesis of Müller Rice. This unique combination of convenience and taste proved very popular and in the 1980s the dairy launched its famous twin-pot with yogurt and fruit that would be soon known and loved around the world as Müller Corner.
Back to list
Visit website