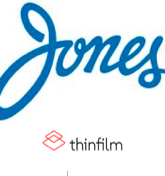 NEWS: Scalable A&IP Production on Standard Manufacturing Equipment
04-05-2018
One of the questions we often get asked at AIPIA is 'Can we produce an Active & Intelligent enabled pack on our existing packaging lines and at our normal production speeds?' Well one company which has successfully integrated Printed Electronics into its folded carton and labelling production – used chiefly for pharmaceutical products – is Jones Packaging.
James Lee, the company's director of innovation and technology will share insights on how this was achieved at the AIPIA Summit of the Americas in Jersey City (4-5 June).
He sets out the case thus: "Printed electronics? I have a printing press – I can do that!"…famous last words. Given traditional packaging industry equipment is not designed for printed electronics, how can you scale? HE will discuss their five-year journey Jones took and explain how they are able to provide two different technologies that can run at high speed for mass production using "slightly modified" machines.
For full details of the Summit and how to register go to:
All about A&IP Summit
June4-5, Jersey City
News overview