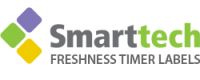 Smarttech Labels Inc.
Smarttech Labels Inc is the exclusive Canadian reseller of Insignia Technologies Inc labels. Founded in 2013 to bring these unique labeling products to the Canadian market, Smarttech Labels Inc. saw the need for these products in Canada where distances to markets are great and solutions must be simple and cost-effective.
We work with our customers to design and manufacture labels to suit their needs for freshness monitoring, quality control, speed in the supply chain, and customer care.
Back to list
Visit website